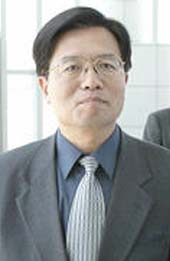 Chinese Ambassador to Seoul Ning Fukui (һݷÎÚ)
Chinese Ambassador to Seoul Ning Fukui (һݷÎÚ) said "A handful of Tibet's independence forces is intentionally making the situations in Tibet worse by trying to hold Olympics hostage," local Yonhap news agency reported on April 23, 2008.The Chinese envoy made the argument during his lecture held at Seoul National University on the day."We cannot tolerate violent demonstrations such as arsons and destructions, said the ambassador. "We will prosecute the demonstrators according to the law, as before."
He said that there are a total of 56 ethnic minorities in China, and Tibet is only one of them.All the them are guaranteed not only the same rights as Han Chinese but also they are given even more benefits, he continued."Minorities are allowed to have two children whereas only one child is allowed for Han Chinese," he emphasized. "In addition they receive one more point in college entrance examination."Han Chinese (ùÓðé), as the largest single ethnic group on the Earth, are an ethnic group indigenous to China. Han Chinese constitute about 92 percent of the entire population in China.
But the Chinese envoy got angry when one of the participants raised a thorny question.The question was that many countries decided to boycott the opening ceremony of the Beijing Olympics and European Parliament adopted a resolution against the Olympics because of "bloody incident" in Tibet."Study more," the Chinese envoy gave angry reaction to the question. "The question itself is so ignorant." Eventually he dodged the question.Regarding the bilateral relations between South Korea and China, he said he agrees to President Lee Myung-Bak's remark that there will be no development without neighboring countries' prosperity and mutually beneficial ties are desirable.He said that China is the biggest victim when it comes to yellow dust problem. He said that China would even try harder to stop the desertification of China.
For details or inquiries contact the Chinese Embassy in Seoul at 738-1038.