America
2-Week-Old Twins Overdosed by 1,000 Times
Nightmare of Dennis Quaid, Kimberley Buffington
By Stephen Fox
Editor of New Mexico Sun News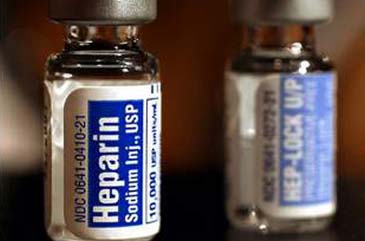 Bottles of Heparin, blood thinner
Dennis Quaid is here in Santa Fe to film Legion. We were horrified to learn what happened to his twins, Thomas Boone and Zoe Grace, who were last November accidentally given 1,000 times the common dosage of the blood thinner, Heparin; this drug is already under scrutiny because of contamination presumably in the manufacturing process in China. According to an article and photos in the New York Times, this heparin manufacturing process involves grinding up pig intestines in family kitchens/factories that seem ordinary for China, but which would seem monstrously filthy in most nations.These Quaid twins were conceived with a surrogate mother and are wonderful little blue-eyed bundles of joy already.Cedars of Sinai Hospital officials denied that any of the victims suffered any ill effects. Chief Medical Officer, Michael Langberg confirmed that three patients received vials containing 10,000 units per milliliter of heparin, instead of vials with a concentration of 10 units per milliliter. The patients were receiving intravenous medications and the heparin was used to flush the catheters to prevent clotting.Once the hospital staff realized the error, they tested to measure the patients' blood clotting function. One test was normal, but the other two were given another drug, protamine sulfate, that reverses the effects of heparin. Further tests "indicated no adverse effects from the higher concentration of heparin," Langberg said. Heparin is used to treat and prevent blood clots in the veins or arteries and comes in different concentrations; too much can be deadly.Last year, three premature infants at an Indiana hospital died after a pharmacy technician mistakenly stocked the medicine cabinet with heparin vials containing a dose 1,000 times stronger than what the babies were supposed to receive. Three others also suffered overdoses but survived.Quaid and his wife, Kimberley Buffington, are the biological parents of the twins, who were born Nov. 8 to a surrogate mother."God has definitely blessed us," the couple said in a statement announcing their birth. Quaid, 53, has a 15-year-old son, Jack Henry Quaid, from his marriage to Meg Ryan.His credits include "Great Balls of Fire!" "Any Given Sunday" "The Big Easy" and "Far From Heaven."This nightmarish story is of great concern to me, given my deep focus on consumer protection, especially getting aspartame taken off the market by getting its FDA and other regulatory approval rescinded.Two week old children should not be administered such risky drugs in the first place. Quaid and his wife are correct to be suing the manufacturer because of the shoddy labeling on each vial, although the $50,000 they are asking for seems like chump change for what sort of terror as parents they had to have gone through; Quaid told me that he is very keen on getting them to standardize their labeling all over the world, so this won't happen again. Baxter Health Care stated that: "this is not a product issue. The issue here is about improper use of a product."In a prepared statement, the hospital said a pharmacy technician took the heparin from the pharmacy's supply without having a second technician verify the drug's concentration, as hospital policy requires. Then, when the heparin was delivered to a satellite pharmacy that serves the pediatrics unit, a different technician there did not verify the concentration, as required.Finally, the nurses who administered the heparin to the patients violated policy by neglecting to verify that it was the correct medication and dose beforehand, the hospital said. Quaid's suit argues that the heparin was "unreasonably dangerous" as it was packaged and sold because both the small and large dosage vials had labels with blue backgrounds when the vials should have been completely distinguishable (by) size and shape. He can wait up to eight years to sue Cedars Sinai, which is warranted, given the developmental damage that might have occurred with the heparin overdose, which hopefully will not materialize during the next seven ½ years.Quaid told me out of their concern for other potential vicitms of heparin, especially children, that he and his wife Kimberley will be addressing a Congressional hearing in the near future on this matter, and is even more concerned that the United States Supreme Court does not extend its immunity blanket to drug manufacturers in a decision expected this summer. "The Supremes" have already given blanket immunity to medical device manufacturers, and of course extending this to Big Pharma becomes an obscene and brazen gift from the Bushie Neocons-doing-business-as-the-US Supreme Court to some of the biggest corporate monsters in America.Mike Adams of Newstarget.com, one of the sharpest and most astute alternative health commentators in the USA, decried this situation in a great column and recent post as no less than the veritable end of our nation as we know it, if the Supremes hand the "get-out-of-being-sued" card to Big Pharma. Let's hope that Mr Quaid and his wife can add momentum and some celebrity impact to this discussion when they appear before Congress, and let's hope that some of the venerable Supreme Court Justices might just happen to be listening!
Stephen Fox serves as managing editor of Santa Fe Sun News.

Related Articles
Advanced Cell Technology and CHA Bio & ...
Obama Annuls Edict Against Stem Cell Research
200 Ex-Diplomats Endorse Obama
Obama's Presidency Could Galvanize 30 Million ...
Obama Needs to Hammer Economic, Foreign Policy ...
Beijing Olympians' Health vs. Air Pollution
Koreans Absolutely Correct to Object to US ...
New Mexico Gov. Richardson: Best USA Secretary ...
Gorbachev Asked to Lead Next USA President Out ...
What Does Coca Cola's Dasani Bottled Water ...
The Economics of Failure
Phytonutrients: Biochemistry of How Healthiest ...
China's Ex-FDA Head Condemned to Death over ...
Resolving the Worsening Crisis at the FDA
Expectations for New UN Sec. Gen. Ban Ki-Moon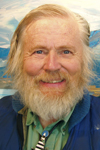 In 1980, Stephen Fox founded New Millennium Fine Art, a Santa Fe gallery specializing in Native American and Landscape, and is very active in New Mexico Legislative consumer protection politics, trying above to get the FDA to rescind its approval for the neurotoxic and carcinogenic artificial sweetener, Aspartame. In a strictly legislative context, his most important writing has been for the Hawaii Senate. In his capacity as Contributing Editor of the Santa Fe Sun News, Fox recently interviewed Mikhail Gorbachev.