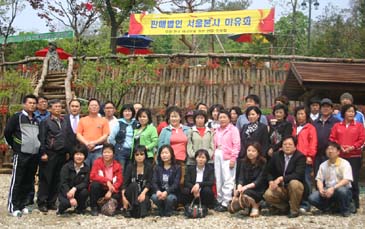 CLED Chairman Park Tae-Ho (far left) poses with his fellow workers at a company outing at Dae Woong Restaurant in Gwancheon south of Seoul on April 25, 2008.
Chairman Park Tae-Ho of CLED, a manufacturer of epoch-making food waste treatment machine in South Korea, has gathered his men and women at DaeWoong Restaurant on the southern outskirt of Seoul on April 25, 2008.In the award ceremony Chairman Park praised key people of his company for their efforts to producing South Korea's first food waste treatment machine which converts food waste into organic fertilizers.In particular CLED President and CEO Kang Myung-Sook was singled out for her years of contribution into inventing the phenomenal "CLED100H" and "CLED200H" series. President Kang was awarded with her own name plate by Chairman Park in the ceremony.
CLED President
Kang Myung-Sook— CLED President has played a leading role in developing S. Korean phenomenal food waste treatment machine. She has spent as much as 4 billion won on developing CLED machine series. She also plants to export the CLED machine to overseas countries as well as China. It took her more than six years of hard work and efforts to develop CLEDs.
CLED's PR Director Kim Dae-Woong was also recognized for his promotional activities. Director Kim has been running his own restaurant business. He owns three large-scale restaurants in and outside Seoul."As a owner of three big restaurants food waste has always been my major headache," Director Kim said. "My employees in charge of disposing the vast amount food waste from the restaurants eventually ran away." He said that after a while he contacted about 10 companies selling food or garbage disposers and used them for past years."But, later when I found a CLED I said 'This is it,'" he continued. "I volunteered to become CLED's PR director even without getting paid."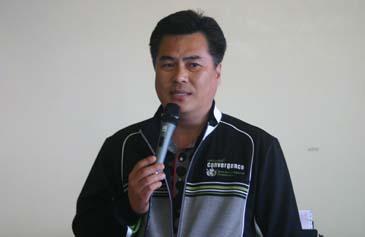 CLED Chairman Park Tae-Ho is making a speech.
He said that CLED released its products in January this year. ClED is now organizing national sales network for the major release of various CLED series.In May CLED will start building a major factory in for producing organic fertilizers from the food waste. The construction will be completed in October this year.As elsewhere in the world, food waste has been a huge problem both for the government and the people in South Korea.Nationally a total of 1,880 truckloads of or 15,075 tons of food garbage are wasted daily in the nation. The figure accounts for 31.6 percent of all garbage. Its economic value amounts to 1.5 billion won.
CLED PR Director
Kim Dae-Woong— CLED PR Director Kim Dae-Woong said that he volunteered to become the PR chief of CLED, maker of food waste treatment machine. Mr. Kim also owns and runs large-scale Korean restaurants in and around Seoul areas.
Unlike other food waste disposers, CLED machine get rid of nearly all the salinity from the waste, making the waste easily become fertilizer.Also, CLED uses the method of compressing the waste to lessen the weight instead of the conventional way of drying the waste. CLED's way is 10 times more efficient than the existing way, according to President Kang.
President Kang said that she spent a total of 4 billion won on developing the garbage treatment machine for the last six years.
She said that they already tapped into the Chinese market in a way to advance into the world market."I hope our CLED machine will play an important role in maximizing our national interest as well as in giving other countries big benefits," President Kang hoped.