A member of South Korean civic groups is paying tribute to late Kim Sun-il in a make-shit funeral in downtown Gwangju, South Jeolla Province on June 23, 2004.
Courtesy Yonhap
BAGHDAD, Iraq — South Korean interpreter who dreamed of becoming a Christian missionary in the Arab world was beheaded Tuesday by the insurgents who held him captive after his abduction five days ago near Falluja. The execution was carried out after the South Korean government rejected the captors' demand that it halt the scheduled deployment of an additional 3,000 troops to Iraq in August. A videotape broadcast on Al Jazeera television showed the victim, Kim Sun Il, sitting or kneeling quietly in an orange jumpsuit and blindfolded with an orange cloth. Five masked men, three cradling guns and one with a sheathed knife, stand behind him. "Your army has not come here for the sake of Iraqis but for cursed America," one of the men says.Al Jazeera, which did not show the killing, reported that the men then beheaded Mr. Kim. The killers were believed to be members of a group called Jamaat al-Tawhid and Jihad, which is linked to the Jordanian terrorist, Abu Musab al-Zarqawi. The Central Intelligence Agency has said Mr. Zarqawi was the man seen beheading Nicholas Berg, an American who had been kidnapped, on a tape circulated on the Internet.
Korean captive decapitated
South Korean civilian Kim Sun-il (front), sits in front of his captors in this image taken from an undated but recent video obtained by Al-Jazeera TV station on June 20, 2004. In the video, an Islamic group "Monotheism and Jihad" said that Korea had 24 hours to meet its demands of the withdrawal of Korean troops from Iraq. Kim was beheaded by the group as South Korean government failed to meet their demands.
Hours later, the United States military carried out an airstrike in Falluja on what a general called a "known Zarqawi network" safe house, The Associated Press reported. Four people were killed and six wounded, according to witnesses and a hospital official. President Bush said Mr. Kim's beheading was another futile effort to drive the United States and its allies out of the country. "They want us to cower in the face of their brutal killings," he said, "and the United States will not be intimidated by these people." This was the third beheading in the Middle East in the last several weeks. Last Friday, Saudi members of a cell suspected of being linked to Al Qaeda decapitated Paul M. Johnson Jr., an abducted American engineer. Mr. Berg was killed last month. American soldiers found the body of Mr. Kim, 33, between Baghdad and Falluja, the volatile Sunni city 35 miles west of the capital. "It appears that the body had been thrown from a vehicle," Brig. Gen. Mark Kimmitt, a spokesman for the occupation forces, said Tuesday in a statement to The Associated Press. "The man had been beheaded, and the head was recovered with the body."
The parents of Kim Sun-Il at their home in Busan, South Korea, reacted to the news that he had been killed.
Courtesy Getty Images
Parents of Kim Sun-il who was kidnapped in Iraq, react after hearing that their son had been killed, at their home in Busan.
Courtesy Associated Press
In southern Iraq, one of two great pipelines began flowing with oil again after a pair of explosions shut down oil exports last week. Investigators were focusing on current and former employees of the state-owned South Oil Company who may have given inside information to the saboteurs, government officials and engineers at the company said Tuesday. But as oil began flowing in the south, a huge new explosion ripped through a pipeline running from Bayji to a key refinery in Baghdad. Plumes of dark smoke rose above the blast, 20 miles north of Baghdad. The devastating effect of the two southern explosions, which were placed with surgical precision amid the welter of buried gas, water, oil and petrochemical pipelines crisscrossing the open desert, immediately raised suspicions that someone inside the company was involved. "That's very likely and very possible," said Walid Khadduri, an Iraqi who is the editor of the Middle Eastern Economic Survey and an authority on Iraq's oil industry.
Roh's firm resolve
President Roh Moo-hyun reaffirmed his principle to dispatch 3,000 more Korean troops to Iraq in a special statement issued on June 23, 2004 in the presidential Blue House. Roh is under mounting criticism from citizens and politicians particularly after Kim was decapitated by Islamic militants.
Although earlier pipeline attacks have also suggested that the attackers had inside help, "they have never accused anyone publicly," Mr. Khadduri said of Iraqi officials. Elsewhere, two American soldiers were killed by enemy fire in Balad, north of Baghdad. The dean of the law school at Mosul University and her husband were shot and killed, and two Iraqis died in a car bombing in Baghdad. In all the recent beheadings, the victims were wearing orange shirts similar to prison jumpsuits. Some analysts have speculated that the jumpsuits are meant to evoke the humiliations of Muslim men at the Abu Ghraib prison and at Guantánamo Bay, Cuba. Mr. Kim was kidnapped Thursday as he was returning to Baghdad in a civilian convoy that had left an American military base 120 miles west of the capital. He had been working for a South Korean company that supplied goods to the American military, and held degrees in Arabic, English and theology. He was working in Iraq to earn enough money to carry on his studies, his sister said. Militants released a videotape on Sunday in which they demanded that the South Korean government abandon its deployment plans within 24 hours or receive the head of Mr. Kim.
Hundreds of civic group members urged Seoul government to scrap its plan to dispatch additional 3,000 troops to Iraq in front of Kyobo Building in Gwanhwamun downtown Seoul on June 23, 2004.
Courtesy Ohmynews
Hundreds of South Koreans held candlelight vigils and joined prayer groups on Monday to ask for Mr. Kim's release and to beseech their government to negotiate with the captors. Officials rejected the insurgents' demand, and the Monday night deadline came and went with no news of Mr. Kim's fate. But the worst fears of Mr. Kim's family and friends were realized on Tuesday night, when Al Jazeera showed part of the videotape of his death. The video showed a large black banner with a yellow circle hanging on a wall behind the men. Words at the bottom revealed the name of the group, Jamaat al-Tawhid and Jihad, which means Monotheism and Holy Struggle. A standard Islamic saying runs across the top of the banner: "There is no God but Allah, and Muhammad is his prophet."
Wailing family
Family members of Kim Sun-il are wailing at the news of his death. Kim was slain by Islamic militants after the deadline passed. Up until the morning of June 23, 2004 Kim's family were optimistic about the release of Kim as Seoul government assured them of his safety. South Korean government is under heavy fire from Kim's family and other civic groups for failing to respond effectively to the demands of the Islamic captors.
A similar banner was left behind by insurgents who staged a brazen daylight assault in February on the main police station in Falluja. That city remains the single most problematic place for the occupation forces in Iraq. In early May, marines withdrew from the city and turned it over to a 2,000-strong militia composed partly of insurgents, and Falluja now remains firmly in the hands of hard-line Sunni clerics and guerrilla fighters. Last Saturday, an American jet fired missiles at what General Kimmitt said was another suspected Zarqawi safe house in Falluja. At least 26 people were killed. It was unclear whether Mr. Kim was killed by the same people who had kidnapped him. Insurgents have announced rewards for the abduction of foreigners from countries that have sent soldiers to Iraq. Scores of foreigners have been kidnapped since the bloody uprising in April, and many are still being held. Kim Chun Ho, the head of the Gana Trading Company, which employed Mr. Kim, has told the Yonhap news agency that several other foreign contractors were traveling in the same convoy with Mr. Kim and were also kidnapped.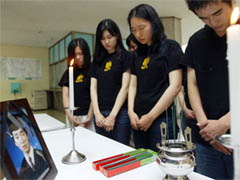 Students of Hanguk University of Foreign Studies' Arabic Language Department in Yongin are paying tribute to the late Kim Sun-il, who graduate from the university.
Courtesy Yonhap
He said those contractors were working for Kellogg, Brown & Root, a subsidiary of Halliburton and the largest private supplier to the American forces. The company said Tuesday that it could not confirm the kidnappings. South Korea has 660 noncombat troops in Iraq. The addition of the 3,000 in August would make the country's deployment here the third largest, behind the United States and Britain. Polls in South Korea show that a majority of people there oppose their government's participation in the war. The government released a statement on Tuesday emphasizing that the troop deployment is "for reconstruction and humanitarian aid support." Insurgents have pursued a strategy of punishing countries that join in the occupation. In April, fighters killed one of four Italian hostages but released the others. A Japanese photographer and two nonprofit workers were kidnapped in April and eventually released. In both cases, the countries refused to negotiate with the captors. Many of the hostages who have been released have won their freedom through the mediation of Sunni clerics. Earlier on Tuesday, wire services reported that an Iraqi mediator said he had seen Mr. Kim alive and that the captors had agreed to extend talks.
The above article is from The New York Times.