Lanterns and vendors line the street in Bongwon-dong, Seodaemun-gu, Seoul on Buddha's Birthday of May 12, 2008.
May 12, 2008 marked the holiday of Buddha's Birthday. Also known as Vesak, Buddha's Birthday is a national holiday in South Korea. It is called
Bucheonim osin nal
, meaning in Korean, "the day Buddha arrived." Because it is determined by the Lunar Calendar, the date of the holiday changes each year. Next year's celebration will occur on May 2, 2009.There are 18 different sects of Buddism in South Korea but by far the most popular is that of the
Chogye
Order.
Chogye
is unique to Korea; while it originally began as the Zen sect brought over from China; over time it has absorbed aspects other sects and of indigenous Korean shamanist religious tradition. The purpose of the Buddha's Birthday holiday is to celebrate the life, death, and enlightenment of the Buddha as well as his teachings. On this day, Buddhists go to temples to pray and celebrate.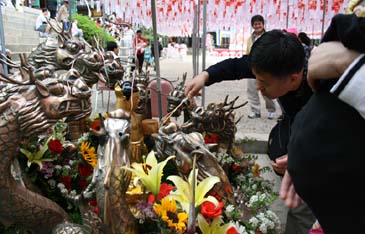 A father teaches his daughter the Bathing of the Buddha custom.
One specific ceremony is that of Bathing the Buddha. While literally washing a statue of the young Buddha, Siddartha, this act is meant to also cleanse greed, hatred, and other evils from the body and mind. In doing this, one also hopes for the purification of society.The Lotus Lantern Lightings and Chanting Ceremony ends the day. Temple-goers dedicate lanterns in order to help themselves and others attain enlightenment; it is also done to help the world become a better place.During the month of May, colorful lanterns are hung to cover temple grounds. These lanterns flood out and extend along the streets. In a similar fashion, street vendors line the streets selling everything from
makoli
(Korean traditional rice wine) to kebabs to prayer beads to cotton candy.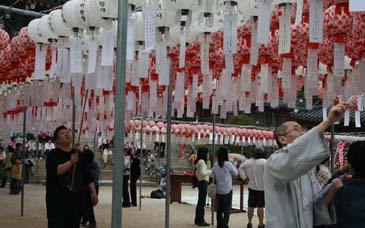 A monk counts dedicated lanterns at the Bongwonsa Temple grounds in Bongwon-dong, Seodaemun-gu, Seoul.
Traditional folk musicians perform in open spaces, men and women dance, and families eat together. While these proceedings are not all necessarily part of the Buddhist tradition, the day has become an integral part of modern Korean culture. Having work and school off, the day is one of celebration for all.