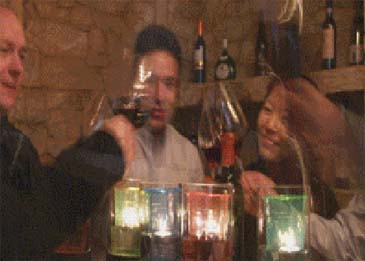 The Kabinett Wine Bar in Seoul's Itaewon area
This May, the Kabinett Wine Bar hosts several special events including live comedy, music, and wine tasting. This month will also see a completely new menu prepared by Kabinett's new chefs. It will include Kangaroo Steak, Grilled Rib Eye, Spaghetti Olio, and Lemon Chicken.
The second Wednesday of each month is "Wine Movie Night." This month's movie on May 14 will mark the first animation film, Pixar's
Ratatouille
. The film starts at 8:00 p.m. Following the French theme, Chateau Bordeneuve will be available for only 5,000 won per glass.
BH Productions and the Spotlight Comedy Club present a special one-night only event featuring American comedians Alycia Cooper and James Gleason on Sunday, May 18. The doors open at 5:30 p.m. and the show begins at 7:00 p.m. Reservations are recommended and can be made only by Email: spotlightcomedyclub@yahoo.com or thebhpcompany@yahoo.com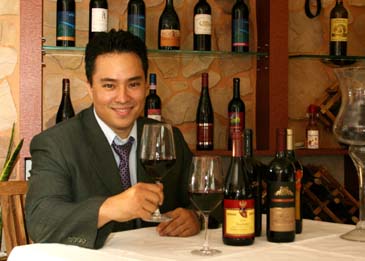 President Dan Schulte of Pieroth Wine Korea. He is also co-owner of the Kabinett Wine Bar in Seoul's Itaewon area.
On Saturday, May 24, in conjunction with Eloquence Magazine there will be wine tasting featuring wines from Australia and New Zealand. The cost is 35,000 won (45,000 on the day of) and it covers wine as well as appetizers and dinner. The event begins at 6:00 p.m. There is limited seating so reservations are recommended; they can be made by contacting Eloquence magazine at (02)567–0067 or stephen@eloquence.co.kr
The Seoul Wine Club hosts a live concert on the Kabinett Rooftop on May 30 featuring the E'Joung-Ju Ensemble. Lee Joung-Ju, Daami Cagney, and Brian Rose make up the international collective. As a female soloist, Lee Joung-Ju is a National Living Treasure. The cost of 30,000 won (40,000 on the day of) also covers dinner and complementary wine. Reservations are required and can be made by contacting events@seoulwineclub.co.kr, gmgr@kabinett.co.kr, or (02)790-7034. More information on the ensemble can be found at http://ejoungju.hitmuse.com
Happy Hour occurs daily from 5:30 p.m. to 8:00 p.m. (starting at 4:00 p.m. on weekends). When purchased by the glass, wine will come with a complementary second glass. Every Tuesday is Wine Flight Night and May's theme is Australia and New Zealand.On Tuesdays, sample any of the month's specialty wines for 10,000 won. On other nights, these cost 20,000 won. As a part of May's down-under theme, Kabinett will also feature a special on kangaroo steak. Each Thursday features live jazz and lounge music from 9:00 p.m. to 10:30 p.m. Enjoy wine and relax with Kabinett's resident band the "Soul Lounge Duo."