| | |
| --- | --- |
| | University Marshal Jackie O'Neill, center, leads the procession followed by a cheering Harvard President Lawrence Summers, during Harvard's 353rd commencement ceremonies this month in Cambridge, Mass. Courtesy AP |
CAMBRIDGE, Mass. — Within weeks of taking over as president of Harvard University in July 2001, Lawrence H. Summers captured national headlines after rebuking a star of the university's African American studies department for lackluster academic performance. A few months later, he was back in the news after suggesting that some Harvard professors and students were contributing to "an upturn in anti-Semitism."These days, the former Treasury secretary and in-house intellectual of the Clinton administration prefers to stick to less controversial matters. During commencement ceremonies this month, Summers called on American universities to do more to help students from disadvantaged backgrounds, repeating a pledge to provide a free education to any student with a family income of less than $40,000 a year. Behind the scenes, however, supporters and opponents say Summers has been shaking up Harvard with a no-nonsense, often abrasive style that is in sharp contrast to the consensus-building favored by his immediate predecessor, Neil Rudenstine. Over the past three years, he has moved to curb the autonomy of some of Harvard's notoriously independent fiefdoms, place his own people in key positions and reorganize the curriculum.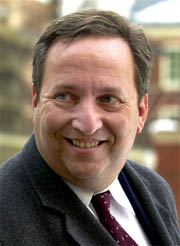 Lawrence H. Summers
Many at Harvard applaud the changes, arguing that the nation's oldest and most prestigious university needs a kick in the pants if it is to adapt to the challenges of the new century. Others accuse Summers of insensitivity, micromanagement and running the university the same way he ran the Treasury Department — with an emphasis on top-down decision-making and an aggressive public relations operation. Law professor Alan Dershowitz, a Summers supporter, speaks for many Harvard faculty members when he says that Harvard may be "a china shop that needed to have a bull let loose in it." The scion of a family of distinguished economists, Summers was 28 when he became in 1983 one of the youngest tenured professors in Harvard history. He moved to Washington in 1991 to serve as chief economist of the World Bank before joining the Clinton administration in 1993 as undersecretary at Treasury. He succeeded his patron, Robert E. Rubin, as Treasury secretary in 1999. In Washington and Cambridge, he gained a reputation for combining brilliance with arrogance. In an interview in his Harvard office, Summers acknowledged treading on a few toes. "The greatest danger for a university is to be complacent and comfortable," said Summers, his feet propped on a coffee table as he sipped a Diet Coke. "I have tried to resist the idea that the fact we have done things in a certain way is the reason why we should continue to do things the same way." Remaking an institution founded 140 years before the United States is a formidable challenge. Harvard is on the verge of one of the most dramatic expansions in its history, developing a new campus in Boston across the Charles River that will more than double the school's physical size. This comes on top of a lively debate about the research priorities, admissions policies and teaching practices of a university that aspires to set trends for the rest of academia.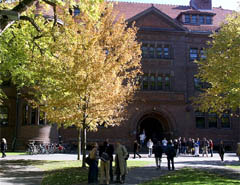 Harvard University campus
One of Summers's recurring themes since becoming president has been the need to break down the traditional barriers between arts and sciences. He complains repeatedly that many students graduate without knowing "the difference between a gene and a chromosome." And he is proud that Harvard has become an international leader in stem cell research, thanks in part to a partnership with his alma mater, the Massachusetts Institute of Technology. Summers's supporters say he is helping to modernize a venerable institution and raise academic standards that had grown so lax that in 2001 — the year of his inauguration — the university awarded honors to 91 percent of its graduating class. "He is unafraid of major decision-making," said David Gergen, a professor at Harvard's John F. Kennedy School of Government and adviser to Republican and Democratic presidents. "When he first came here, there were some who believed that his tenure might be short, controversial and bruising. Today, most of us think it will be long, productive and extraordinarily creative." Other opinions range from outright opposition — almost exclusively expressed off the record for fear of retribution — to complaints that he stifles debate and fails to involve the faculty in important decisions. "Larry is a strong-willed person who often expresses ideas before he has thought through all the consequences," said Everett Mendelsohn, a veteran professor of the history of science and one of the few members of the faculty willing to criticize Summers publicly. "You have to have a fairly strong stomach to take him on."
A Money-Making Machine
A huge white-and-yellow canvas tent was erected in a corner of Harvard Yard to host the more than 400 members of the Class of 1954 who returned for commencement week. Over the centuries, Harvard has succeeded in turning its alumni into a money-making machine that is the envy of the rest of the academic world. Typically, a 50th-year reunion such as this one can produce upward of $20 million. The record is more than $50 million.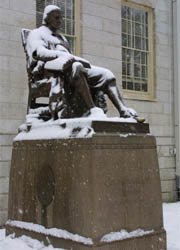 Statue of John Harvard (1607-1638), founder of Harvard University
Although Summers carefully avoided crass talk of fundraising, his message was clear. Harvard may be the richest university in the world, but it needs even more money to face the challenges ahead, which include "building a campus for the 21st century" and serving as "ground zero for a scientific revolution" based on stem cell research. Harvard would have to recruit one-third more professors to catch up with its rival Princeton in student-faculty ratio, he said. "Of course they need more money," joked securities lawyer David Gerstein, after listening to the president's pitch. "They only have an endowment of $19 billion." Summers's remarks were greeted with polite applause, but there was some grumbling about recent news reports of $34 million annual bonuses for Harvard's two leading money managers. A glance around the tent revealed that the members of the Class of 1954 are being asked to contribute huge amounts of money to a university very different from the one they attended. Virtually everyone here is white. With the exception of a handful of Radcliffe graduates, the alums are male. By contrast, the newly recruited Class of 2008 is more than 50 percent female for the first time in Harvard's history. Minority students account for nearly 40 percent of incoming freshmen. Despite its huge endowment, Harvard recently laid off workers for the first time in many years and limited library hours. Some faculty members attribute the financial strains to the proposed expansion — which has drained resources from current projects — but Summers says the stock market is chiefly to blame. The purchasing power of Harvard's endowment "has declined by about a third" over the past 2 1/2 years, Summers said. One effect of the budget constraints has been to reinforce the trend toward centralized decision-making. In addition to asserting the president's right to veto tenured faculty appointments, Summers has demanded that schools submit their fundraising projects to his office for approval. He has also instituted centralized procurement procedures that he estimates have saved at least $10 million a year. "Academic freedom is wonderful, but it really doesn't have a place in the purchase of cement," Summers said.
'A More Conservative Place'
A few weeks before commencement, Summers accepted an invitation to speak to the class of popular religion professor Brian Palmer. A passionate advocate of progressive causes, Palmer has opposed Summers on a number of issues, including a campaign to persuade Harvard to increase wages for its lowest-paid employees and demands that the university sell stock in companies that do business with Israel. Summers seemed barely able to contain his disdain as he implicitly accused Palmer and others of seeking to turn the university into a "political institution." "It's not for Harvard to have an opinion on the merits of the Iraq war, or the right to choose versus the right to life," he told the students.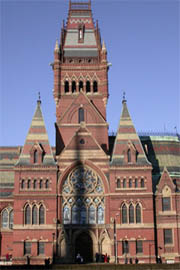 Harvard's Swarthmore College
Harvard has become "a more conservative place" under Summers, said Palmer, whose three-year contract expires at the end of this month and has not been renewed. In addition to his own imminent departure, he cited the case of African American studies professor Cornel West, who left Harvard for Princeton after Summers criticized his lack of scholarly output. From the opposite end of the ideological spectrum, government professor Harvey Mansfield praises Summers for setting a "less politically correct" agenda for the university through his appointments and his statements as president. "Commencement used to be a celebration of liberal ideas," said Mansfield, who describes himself as a rare conservative on the faculty. "It's now less political, more evenhanded." Others note that Summers gained credibility in neoconservative circles because of the West controversy and his September 2002 denouncement of the divestment champions, whom he called "anti-Semitic in their effect if not in their intent." Summers has asserted the long-dormant right of Harvard presidents to have a final say in senior faculty appointments, and has vetoed several candidates on academic grounds. This has led to clashes with several of the university's semiautonomous parts. Summers says he has tried to put "an emphasis on accountability and performance around the university," which has sometimes meant "more intrusiveness, more involvement of my office in decisions than was the case before." The jury is still out on his long-term effectiveness. Some faculty members, such as Joseph S. Nye Jr., outgoing dean of the Kennedy School, say Summers's legacy will largely depend on how well he handles the expansion to Allston across the river. "It's far too early to tell whether he will succeed," said Robert B. Reich, a former Harvard professor and Clinton labor secretary. "Changing Harvard," he added, "is like pushing a boulder up a raging river. It's hard work, and all the currents are against you."
The above article is from The Washington Post.