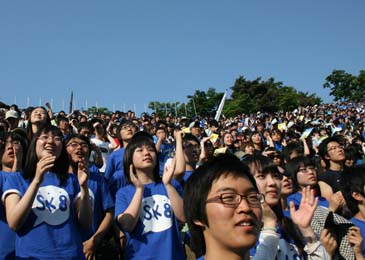 College students cheer at the Akaraka spring festival at Yonsei University's outdoor amphitheater in Seoul on May 15, 2008.
Each year the students of Yonsei University observe the spring festival Akaraka. For a week in May, Yonsei's main campus is covered in blue flags and tents. As a fundraiser, school clubs sell drinks and food from around the world and perform various music and dances.On May 15, 2008 thousands of students in blue tee shirts displaying their club or college affiliation gathered to cheer in the stands of Yonsei's outdoor amphitheater. While the event officially started at 5 p.m., performances began from around 3 p.m., making Akaraka a seven-hour-plus affair.The purpose of the festival is to celebrate Yonsei's school spirit as well as the school's longstanding rivalry with Korea University. Each fall, both schools get together for the Yon-Ko (Yonsei-Korea) Fete sports competition. The tradition and rivalry started in 1956 with the two schools competing in various sporting events.While Akaraka is mainly for students, the event is open to the public and anyone can purchase tickets. High school students still in uniform came to see if rumors of appearances by such popular music groups as Big Bang and the Wonder Girls would prove true. School bands, dance groups, and even pop singer Gummy came out to get the students cheering before the event's official start. There were performances by pop groups — Jewelry, famous for their "Baby One More Time" song and dance, and VOS, mega producer and Yonsei alum JYP, and yes, Big Bang. Comedians from the popular commedy show "Gag Concert" came as well as former Yonsei cheerleaders.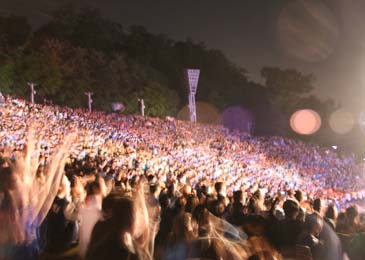 Students cheer for Big Bang at the Akaraka spring festival at the Yonsei University outdoor amphitheater in Seoul on May 15, 2008.
While most universities have one fight song, Yonsei students have many songs and motions to remember. The official Yonsei Yell Leaders teach the crowd new songs and motions. Students follow the Yell Leaders, especially when the cheers are elaborate and hard to remember among so many school songs."I've never seen such unity in school spirit," noted one Yonsei exchange student from America Jason Cho. Another student, a Yonsei senior said "My favorite singers come to celebrate with us" while commenting on why he liked Akaraka. He defines the festival as an embodiment of the "passion of school spirit."During the pep rally, spots of red could be seen amongst the sea of blue. When a student from the rival school is spotted, the tradition is to shout "Kodae babo, kodae babo" meaning "Korea University is stupid."On May 23, 2008 Korea University will host its own cheering pep rally in Anam-dong, Seongbuk-gu, Seoul.