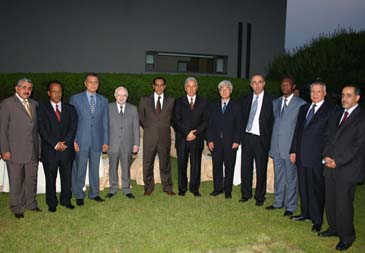 Amb. Rabah Hadid Hosts Reception at Residence
Algerian Ambassador to Seoul Rabah Hadid hosted a reception at his residence near Hyatt Hotel in Seoul for the visiting former Minister of Foreign Affairs Mohammed Bedjaoui on May 22, 2008. He is visiting South Korea from May 18 to May 25, 2008 at the invitation of the Seoul government.Scores of guests — local journalists, scholars, businesspeople as well as Algerians living in Seoul were invited to the dinner reception.
During the reception he praised South Korea's economic development in his short speech."South Korea is a model for all the developing countries for its rapid economic success," he said."50 years ago, Korea was one of the poorest countries in the world," he said. "Now Korean people have made a great achievement."He said that Algeria would do its best in developing bilateral ties with South Korea.He said he did not have a chance to visit South Korea previously.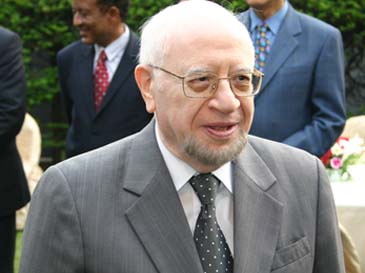 Algeria's former Foreign Minister Mohammed Bedjaoui
Who Is Mohammed Bedjaoui?
Algeria's former Foreign Minister Mohammed Bedjaoui is a career diplomat and jurist. He has also served for 20 years as a judge president of the International Court of Justice of the Hague in Netherlands and as president of Algeria's highest judicial authority, the Constitutional Council.On May 1, 2005 he was appointed as foreign minister of Algeria during a cabinet reshuffle. He served as Algeria's chief diplomat until June 4, 2007 when a new government was appointed. He was excluded from the new government. He was replaced as foreign minister by Mourad Medelci. Before he assumed the post of foreign minister, he had served as Algeria's ambassador to France and the United Nations among other places.His long and prestigious diplomatic and legal career includes serving in Algeria as the minister of justice. He also served as the Keeper of the Seals of Algeria, and the former dean of the Faculty of Law of Algiers. Mohammed Bedjaoui was born on Sept. 21, 1929.
For details or inquiries call the Algerian Embassy in Seoul at 02-794-5034.