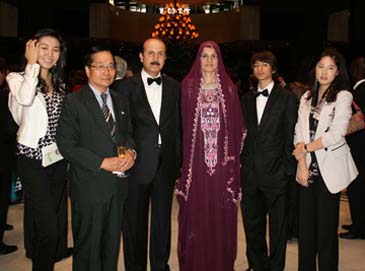 Mrs. Aida Al-Maaina (third from right), wife of UAE Amb. Abdulla Mohammed Al-Maainah, poses with her husband (third from left), and her son Khaled Almaainah at the Parade of Nations event held at the Hyatt Hotel on May 22, 2008. Second from left is Chairman Yun Ik-Han of The Seoul Times.
On May 22, 2008 the spouses of the heads of missions to South Korea hosted the fourth annual "Parade of Nations" diplomatic charity event. The gala was held at the Hyatt's Grand Ballroom in Hannam-dong in Seoul.Opening addresses were given by event organizers and supporters such as: Mrs. Lyudmila Fen of Uzbekistan, wife of the Dean of the Diplomatic Corp in Seoul; Mrs. Song Hyun Ok, the wife of Seoul Mayor Oh Se Hoon; and Mr. Paek Sok Hyon, senior vice president of SK Energy.Donated items including airline tickets, a fur coat, an oil painting, watches, and wine were auctioned and raffled off. Profits from the event will go mainly to the Myongdo Services for Persons with Disabilities, the Migrant Workers' Hospital, and the Korean Association for Children with Leukemia and Cancer.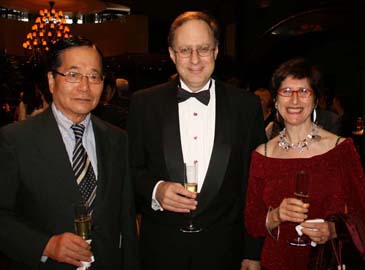 Chairman Yun Ik-Han (left) of The Seoul Times poses with US Amb. Alexander Vershbow and his wife Mrs. Lisa Vershbow.
Myongdo Services was founded by Missionary Sister Geraldine Ryan and is located in Mokpo. The Migrant Workers' Hospital in Seoul offers free medical services to the migrant workers in Korea. Finally the KACLC has been working for twenty years to improve the lives of children with leukemia and cancer in Korea.CNN Seoul Bureau Chief Mrs. Ji-Ae Sohn emceed the event. Performances started with Korean classical singer Cha Seung Hee and a fashion show of wedding gowns by designer Lee Seung Jee. As well as raising money for various charities each year, the gala gives the members of the diplomatic corps an opportunity to showcase their individual talents.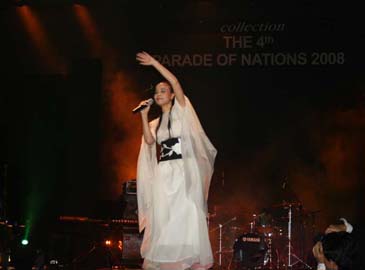 New-age singer Dadawa performs at the "Parade of Nations" event at the Hyatt Hotel in Seoul on May 22, 2008.
Russia's diplomatic corps contributed with Suwon University Professor Alexander Sviatkin played Rimsky Korsakov's "Arabian Nights" on the piano, as well as others performing a popular Russian song and gypsy dance.Husband of New Zealand Ambassador Mrs. Jane Coombs and Musician Mr. Tim Strong sang with the Han Sang Won Band from Korea. United States Ambassador Mr. H.E. Alexander Vershbow joined the group on drums for a couple numbers.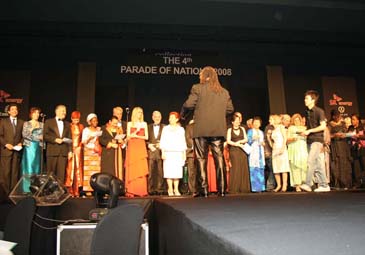 Mr. Tim Strong, husband of New Zealand Amb. Jane Coombs, leads the diplomatic corps in singing the traditional Korean song "Arirang" at the Parade of Nations charity event on May 22, 2008.
The highlight of the night was the performance by Dadawa, Chinese new-age singer and wife of the Canadian Ambassador Mr. Ted Lipman.To end, the diplomats and their spouses joined Strong on stage to sing the traditional Korean song "Arirang." Said emcee Mrs. Ji-Ae Sohn, "Music really is the universal language."