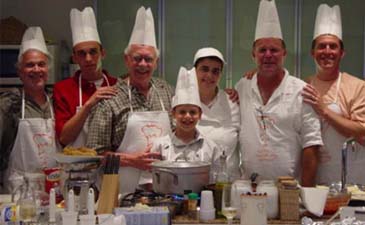 Cooking Vacations' culinary tour programs
Boston, MA — Imagine milking a cow in the morning and making cheese in the afternoon, or going on an exotic truffle hunt at the foot of the Maritime Alps, an afternoon standing in the kitchen with a tall, handsome chef, or cooking beside Nonna in her 300-year-old pantry-kitchen. This is just a sampling of what's on tap in Cooking Vacations' culinary tour programs. Cooking Vacations, the pioneers in culinary food tours to Italy, offers small group, hands-on cooking classes exclusively in Italy. The company located at 304 Newbury Street, Boston, MA, and Positano, Italy at 45 Via G. Marconi; telephone is 1.617.247.4112; email is info@cooking-vacations.com & www.cooking-vacations.com"Our family started the concept of cooking vacations in Italy over 25 years ago. It all began when our American and foreign friends visited us in Italy and ended up spending their days in the kitchen with my Nonna Philomena. Our friends wanted to know how Nonna created her handmade pastas, plump ravioli filled with Ricotta, fresh sea bass grilled on lemon leaves and her towering sponge cake soaked in Limoncello. Her beautiful lunches and dinners topped our table each day accompanied by Nonno's homemade wine. Everyone would follow her steps in the early morning- rolling out pasta, making little meatballs and desserts & gelato filled with seasonal fruits. Soon thereafter, I took our Italian culture, way of life and recipes and created Cooking Vacations. By word-of-mouth, friends and clients filled our family kitchen wanting to see, learn & experience our culture, and share the fun we had in the kitchen. We then expanded the concept incorporating other cooking programs in diverse parts of Italy's regions. Today, we offer the most authentic cooking classes, chefs, recipes, food trips and marketplace visits in Italy. Our network of food-trend lovers, foodies and people in Italy, bring us the best in food, wine and travel," states Lauren Scuncio-Cooking Vacations' creator & owner.
Cooking Vacations gives foodies a taste of authentic Italy with customized trips that include cooking classes (in the kitchen) with local Italian chefs. The food trips, led by locals who have partnered with Scuncio, go beyond typical tourist destinations to give an insider's view of Italy. Included are visits to olive oil and wine producers, and artisans who are part of the Slow Food movement.
"You meet Mamma Rosa the cheese-maker, and you go to their farm and bake bread with them, taste the season's olive oil and homemade wine. Participants eat what's prepared at the end of each class, with the fine local wines of each region," states Scuncio.
The idea of these cooking vacations is to really bring someone into the life of an Italian and the way they cook. Each class is a one-of-a-kind cooking program, because in each area of Italy, the style of cooking and the kitchens are so different.
The Secret Garden Positano is the company's bestseller. A week includes 3 cooking classes in a cantina-style kitchen, a cheese making class, a visit to the Island of Capri, a morning tour of the ruins of Pompeii, a visit to Amalfi & Ravello, a foodie market tour / shopping with the chef, and a Chef's Welcome dinner tasting menu. An alternate program includes, a truffle hunt and then cooking with the prized truffles in Cuneo with a Michelin Star Chef.
For more information, if you require photos, please call 1.617.247.4112.
Press Contact:
Marie Birmingham
Tel: 617.247.4112Cooking Vacations
-A cooking vacation adventure, celebrating the food, art & music of ItalyUSA~304 Newbury Street, Suite 318, Boston, MA 02115
Tele: 617. 247.4112
ITALY~Via G. Marconi, 45, Positano, 84017, Italy 39.339.604.29.33.
For more information or to request photographs, call Cooking Vacations toll free at 1.800.916.1152 or visit www.cooking-vacations.com
Email: info@cooking-vacations.com