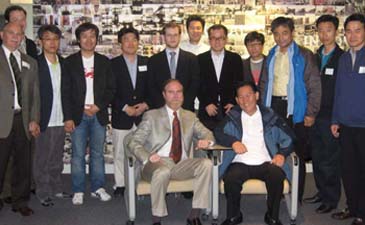 Led by Mayor Jung Dong-Ill (right in front row), the delegation included the director of urban planning, Kang Maeng-Hoon; the leader of urban streetscape team, Chung Byung-IK; and the secretary, Jung Woo-Sung.
This one-of-a-kind think tank session was held to discuss the latest approaches in public space design, streetscape and wayfinding systems, and urban branding. Newark, New Jersey-May 29th, 2008-Newwork, a real estate, planning & design company, assembled a top notch team of experts in the fields of urban design, streetscape design, urban branding, and place-making strategies in honor of a visit from a Korean Delegation from Jung-gu, Seoul's Central Business District.Led by Christopher Kirwan, Principal of Newwork and Dong-Yun Shin, Creative Director, Newwork hosted an ideation session where the latest approaches in Urban Design were discussed with the input and expertise of Ben Donksy, representing Biederman Redevelopment Ventures- leaders in creating and doctoring business improvement districts as well as Senior Principal William Kuhl from Saratoga Associates, who specialize in innovative landscape and streetscape design. Led by Mayor, Jung Dong-Ill, the delegation included the Director of Urban Planning, Kang Maeng-Hoon, the Leader of Urban Streetscape Team, Chung Byung-IK and the Secretary, Jung Woo Sung. Public institutions and government entities in Korea are ever more interested in the fields of city branding and urban design. Considered mainstream in the United States, city branding, public space, sign and façade design, as well as streetscape and wayfinding systems are quickly becoming topics of interest for leaders in local and central government agencies in Korea.These urban design methods are viewed as proven techniques used to improve or transform cities and provide sufficient revenue generating sources as seen in Bryant Park in New York City. The delegation from Jung-gu considers Newwork to be on the forefront of new and innovative approaches to Urban Design and enlisted Newwork's help in this think tank session to explore, understand and present various options to implement these techniques in Jung-gu. Those interested in learning more about Newwork and its services can visit www.newworking.com or contact Janelle Noble, Marketing Manager at jnoble@newworking.com
About Newwork LLC
Newwork is a multidisciplinary company that assists in the development of cities, towns and neighborhoods in three practices: real estate, planning & design and multimedia & marketing. Newwork utilizes visionary thinking, practically applied to determine each Projects Identity.This Identity impacts the design concept, the development strategy, and the marketing approach, utilizing cutting edge marketing techniques and tools such as mapping, visualization, and interactive media to understand, plan and present information to achieve the maximum potential of any given development opportunity.