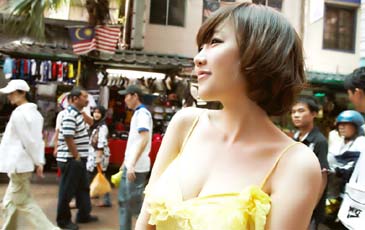 Star went through the lively culture of Malaysia in its capital city of Kuala Lumpur. The pop diva also visited a peaceful beach in Langkawi where she also took her music video.
The popular South Korean pop singer Star (Korean birth name Kim Go-Eun), highly known by her outstanding singing ability, went to Malaysia for her 5th album music video shoot. Star had already visited Penang, Malaysia in 2006 for the picture album but had to leave without fully enjoying the sights.This time, Star experienced lively culture in Malaysia's capital city of Kuala Lumpur, and a peaceful beach in Langkawi where she also shot her music video. During the eight days of filming from May 9 to 16, 2008 Star was mesmerized by the coexistence of modern city culture and beautiful nature in Malaysia.Later Star told the media that she would like to recommend Kuala Lumpur and Langkawi to couples for their romantic occasions.The music video filming was progressed in accordance with five-star Malaysia Airlines Systems.The shooting took place in several famous places downtown in the capital city — the trendy center of Kuala Lumpur called Bukit Bintang, the world's highest twin buildings known as Petronas Twin Towers, and the Sultan Abdul Samad building that has unique structure.She also visited other popular tourist resorts including the Sheraton Langakawi Beach Resort located on the famous island of "Langkawi." Star said that she enjoyed those beautiful Malaysian resorts so much that she would like to recommend the places for couples and lovers through her music video.
Who Is Star (Kim Go-Eun)?
Kim Go-Eun, or better known by her stage name Byul (Korean for "star") is a K-Pop singer known mostly for her ballads.Born on Oct. 22, 1983 in Seosan, South Chungcheong Province, she studied at Dongduk Women's University. She was discovered by Park Jin-Young, the head of JYP Entertainment (the same scout who found Rain), when she had the opportunity to sing for him at one of his fan-meetings.
Courtesy of Wikipedia
For details or inquiries please contact the Malaysian Tourism Office in Seoul at 779-4422 or visit www.mtpb.co.kr.