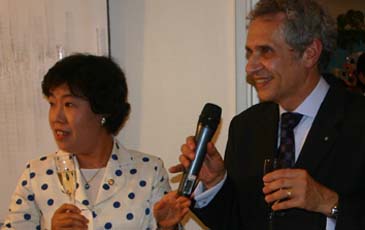 Italian Ambassador to Seoul Massimo Andrea Leggeri (right) speaks to his guests while local lawmaker Choe Bae-Sook (left) looks on at his reisidence in UN Village during Italian National Day reception on June 2, 2008.
Italian Ambassador to Seoul Massimo Andrea Leggeri hosted a reception at his residence in UN Village in Seoul's Hannam-dong on June 2, 2008 on the occasion of the National Day of Italy.Amb. Leggeri greeted each and everyone of nearly 500 guests who braced themselves for the rain to come to the ambassadorial residence, the venue of the celebration.Among the guests were scores of foreign envoys serving in Seoul, local politicians, and other social and cultural figures.
Ms. Cho Bae-Sook, lawmaker of the largest opposition United Democratic Party, and world-famous soprano Jo Su-Mi, were invited.Italian guests included Taekwondo gold medalists — Mr. Mauzo Sarmiento and Ms. Veronica Calabrese,Rep. Cho delivered a congratulatory speech in front of the milling crowd within the residence. She stressed the growing importance of the biteral relations between South Korean and Italy. Ms. Jo studied at Academia di Santa Ceilia in Italy.Many of the 500 well wishers enjoyed various Italian dishes at the dinner reception including the highest grade Italian Gelato.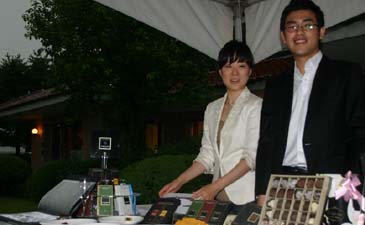 Chocolate Manager Lee In-Gyeom (right) of Namu & Co. poses for camera with his colleague Ham Eun-Kyoung at Italian ambassador's residence in Seoul on June 2, 2008.
What is "Italian National Day"?
Italian National Day, which falls officially on June,
represents the birth of the Italian Republic on 2nd of June 1946. The birth of the Italian Republic is a key event of Italian contemporary history.Until 1946, Italy was officially a monarchy ruled by the House of Savoy, kings of Italy since the Risorgimento (and previously of Sardinia).However, Benito Mussolini imposed fascism after the Oct. 28, 1922 March on Rome, eventually engaging Italy in World War II alongside Nazi Germany. In 1946, Italy became a republic after the results of a popular referendum.
For details or inquiries please contact the Italian Embassy in Seoul at 796-0491/5.