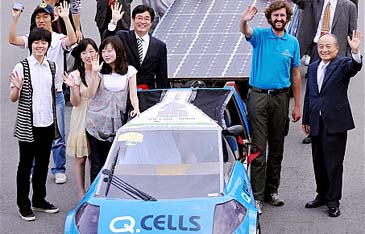 Solar Taxi arrives in Seoul Photo Courtesy of Newsis
Adventurer and environmentalist Louis Palmer of the Switzerland has arrived in Seoul, Korea on June 3, 2008 for his eight-day stay in the nation. He is visiting Korea as part of his tour covering 50 countries and five continents.He is undertaking his global tour in a Solar-powered vehicle called "Solar Taxi" to raise public awareness about the global warming and environmental pollution.Setting off from Luzern, Switzerland on July 3, 2007, he has been traveling nearly 11 months visiting scores of countries. He traveled more than 30,000 km before he reached Seoul. Mr. Louis Palmer drove his Solar Taxi in 20 countries in Europe alone. He visited Middle Eastern countries, India, Indonesia, New Zealand, Australia, Singapore, Thailand, and China. Korea is his 26 th country he visited on this trip.He gained a world-wide attention in Bali, Indonesia in last December when he gave a ride to such world's dignitaries as New York Mayor Michael Bloomberg, Australia's Environment Minister Peter Garrett, and President Rajendra Kumar Pachauri of the Intergovernmental Panel on Climate Change (IPCC). They were attending the United Nations Climate Change Conference held in Bali on Dec. 3-15, 2007.At a press conference he had at the Swiss Embassy in Seoul on June 3, 2008 he emphasized people's will power and participation by the businesses to ward off climate change.His global trip is aimed at warning the people around the world against global warming. He also wants to show the world about the environment-friendly source of energy – the solar energy.His solar-powered vehicle "Solar Taxi" has space for one more person. He uses the space to give a ride to passengers along the way. Throughout his trip, the Solar Taxi has been accompanied by German student Thomas Gottschalk. He enjoys meeting new and interesting people in different countries.A primary school teacher in Switzerland, the 36-year-old environmentalist has visited every corner of the Earth in search of a new challenge for the last 15 years. He crisscrossed the African Continent on bike, and flew his ultra-light plane to the United States and Latin America. He has been on this tour since July 3, 2007 on a mission to warn the whole world against the danger of climate change.During the conference he said that he wanted to show the world how serious the climate change was. He also said that there were many ways of reducing greenhouse gas.Mr. Palmer's Solar Taxi is a solar-powered two-seat vehicle invented by four Swiss universities including Swiss Federal Institute of Technology Zürich. It took them three years for the invention and 15 Swiss corporations joined in the invention. The 500-kg vehicle can speed up to 90 km per hour.He expected that a solar taxi would be some 6,000 Euros when commercialized. It can drive as many as 300 km with only 2,100 won worth of battery charge even under the cloudy weather situation.Mr. Palmer is expected to attend a variety of environment events in the nation. He will attend a Day of Environment event at Seoul Plaza in downtown Seoul on June 5, 2008. He will also visit KAIST in Taejeon, South Chungcheong Province. He will deliver a speech at Shilla University in Busan.He will leave South Korean for Vancouver, Canada on June 10, 2008.
For details or inquiries please contact the Swiss Embassy in Seoul at 739-9511/14.