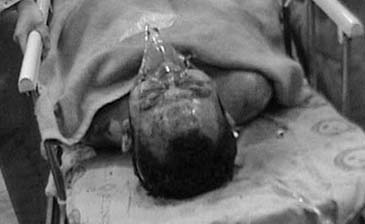 The 56-year-old famer, who tried to kill himself by buring him, is being treated at Hangang Sacred Heart Hospital in Seoul on June 5, 2008. Photo Courtesy of PNN
A middle-aged farmer tried to commit suicide by burning himself in an anti-US beef protest in downtwon Seoul on June 5, 2008. The protester failed to kill himself but got seriously burned all over his body. He is now being treated at a Seoul hospital.Extremely angry over South Korean government's recent decision to resume US beef import, the 56-year-old farmer, known only as his last name Kim, soaked himself with gasoline and lit fire to his body at 2:30 a.m. on June 5, 2008 beside the fountain in the Seoul Plaza in front of the Seoul City Administration building.
Fellow demonstrators around him immediately called 911 and several high school students tried to put out a fire with bottled water but Kim was severely injured and is in a critical state. Kim was moved to Hangang Sacred Heart Hospital in Seoul but injured with 2~3 degree burns on 42 percent of his body including his face and the chest. "The airway is injured so we can't eliminate the possibility of life damage," a doctor said. Witnesses said that Kim came and gave the cell phone and identification card to the student sitting down nearby."Take a video clip of me and upload it on the internet," Kim was quoted as saying before he lit fire to his body.It was found that Kim called Namdaemoon Police Station 10 minutes before the burning and told them about his plan. Kim had been working at a farm of Korean cows in Kyeonggi Province for over eight months. But he was recently fired due to soaring prices of feed and ever worsening financial situation of the farm.Since then he had joined the peaceful candle-light protest, which lasted nearly a month and eventually turned anti-President Lee Myung-Bak and anti-government demonstrations.Tens of thousands of citizens including teenagers, young mothers with babies, and senior citizens have been staging mostly peaceful candle-light vigil demonstrations in downtown Seoul.They are protesting against President Lee's decision to lift a ban on U.S. beef imports. Protesters are fearful of getting a mad cow disease as the South Korean government allowed over 30-months old U.S. cows to be imported.Meanwhile, Kim's family stated that Kim was having a hard time finding a new job and had high discontent toward the society.Police records show that Kim was sentenced to probation for the obstruction of justice in August, 2007.Police are still investigating Kim's case for the exact circumstances.In a seperate case the National Police Agency said that they had an emergency briefing in the morning of June 5, 2008 on the case of Lee Na-Rae, a traditional music major of the Seoul National University.She was brutally trampled by a couple of riot policemen after she was thrown on to the ground by a riot policeman. She was one of the demonstrators in the candle-light vigil rally.In the briefing, police spokesperson said that the riot policemen responsible for the beating would be prosecuted according to the law.Several other high-ranking police officers would also be punished in Lee's case. They were either be relieved of their duty or have their jobs suspended.In the wee hours of June 1, 2008, Lee Na-Rae, a 21-year-old Korean traditional music major of the Seoul National University was severely beaten by a couple of riot policemen.Ms.Lee was trampled under the boots of a couple of riot policemen when one of them grabbed her hair and threw her on to the ground.She ducked herself and rolled undernearth the riot police bus. But when she heard the bus starting up, she rolled back out of the bus. She was again beaten up by the riot policeman, she later claimed.Meanwhile, during police investigation, the riot policeman, who trampled Ms.Lee, said that he pulled Lee Na-Rae's hair and knocked her down. But he said that he did not trample her. But the video clip of beating released on the internet evidently showed the police kicking Lee's head two times when Lee was trying to go under the police bus during the rally."I apologize to all the injured citizens and their families for any damages during the police suppression," a police spokesman Park Chun-Hwa said. "The National Police Agency will educate all the police officers on the use of water cannon and shield to prevent any harsh police suppression."On the other hand, Lee Na-rae's lawyer Min Sun-Young said that she has not heard anything back from police officials."The police officials said that they had probed the case but they did not even contact Lee at all." said Min. "We will decide what to do after we see the probe's result."