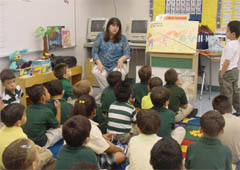 Kids in bilingual education at Wesley Matthews Elementary School in Miami
Recently, the General Services Administration announced that FirstGov en Espanol, the first official gateway to the entire spectrum of Spanish-language web pages offered by
the U.S. government
, is now available. The portal provides access to 110 thousand federal and state web pages. The information covers health, education, housing, citizenship, and voting.Does the availability of information in a foreign language discourage people from learning English, the dominant language of the country? Members of English-only groups will respond in the affirmative.In fact, providing services in foreign languages helps immigrants and speeds up their integration into American society.It starts with driver's licenses. Most states provide driver's license tests in a variety of languages. If tests were available only in English, many immigrants would not be able to drive and be severely limited in their mobility. Adequate mobility means expanded choices in employment, shopping, education, etc. This provides interaction with Americans and increases immigrants' exposure to English, leading eventually to full participation in their adopted country.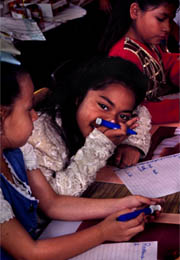 Hispanic children in US
The availability of bilingual ballots makes sure that people's rights are protected and encourages civic participation. It's also the law. Section 203 of the Voting Rights Act says that if more than 5 percent or 10,000 voting-age citizens in a county don't speak English "very well," according the US Census figures, and are fluent in another language, election materials need to be translated.Having the opportunity to vote even if not totally fluent in English, pushes people to become informed about American political issues. Here the press in Spanish or other foreign languages helps by providing information to people who are in the process of learning English. Some of these newspapers print articles in two languages and readers can switch back and forth between their native language and English.Participation in elections helps people become familiar with American politics and provides opportunities to interact with Americans and ultimately learn English. People easily realize that while some of the information they need is available in their language, much more is only available in English.Some cities across the country have figured out that providing services in foreign languages will help their residents and benefit society in general. Oakland, California, New York City, and most recently Washington, D.C. passed ordinances to provide information about city government services in several languages.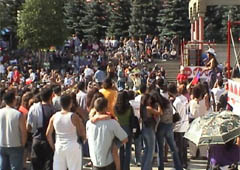 A Hispanic festival
Residents of these cities can obtain documents in their own languages if they are starting a business or if they need to deal with municipal bureaucracy. Some interpretation at meetings is also provided, which means more interactions in civic affairs and encourages integration into mainstream.Police and fire fighters groups have discovered that if some of their officers know a second language, they can help save lives. To encourage new employees to learn languages, many cities offer small stipends to those who can demonstrate a basic knowledge of a foreign language. Sometimes just knowing a few phrases may diffuse potentially dangerous situations. In some cases, a basic fluency helps establish trust with the local community and goes a long way into saving resources and even avoid tragedies.Lives are also saved when governments provide bilingual police dispatchers. It's happening in many areas of the country with large immigrant populations. The ability to understand the words of someone who has dialed 911 translates into immediate emergency assistance. Information in a foreign language in a phone book is also a vital resource.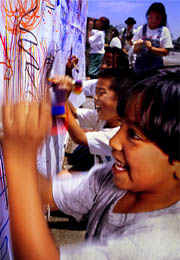 Children of immigrants
In education, knowledge of a second language is crucial for teachers and other school officials to communicate with students and their parents. Although bilingual education has been under attack in the last 10 years or so, most states are continuing it. Knowing the language students bring to the classroom helps teachers establish a partnership with kids and parents.This cooperation is vital in the education of all kids, whether they were born in the US or abroad. It's particularly valuable for immigrants who have to deal with culture shock. Removing the language barrier doesn't solve all the problems but goes a long way to make people feel welcome and eventually get them on the path to integration.Many American businesses provide information in foreign languages, particularly Spanish, to attract customers and improve the bottom line. When government does the same thing, it provides a service which will produce positive results not just for the recipients but for the rest of society as well.