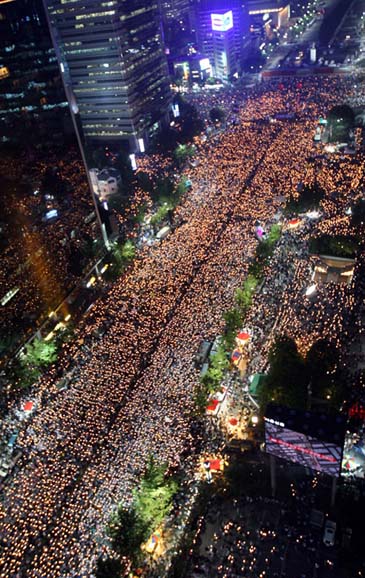 A myraid of South Korean citizens with candle lights gather in downtown Seoul on June 10, 2008 in the largest anti-Lee Myung-Bak demonstration ever.
Following a month-long anti-U.S. beef protest in downtown Seoul, the biggest crowd yet gathered in front of the City Hall for an anti-U.S. beef and anti-Lee Myung-Bak demonstration dubbed the "1 Million-People Candle-Light March" on June 10, 2008, the 21st anniversary of the "June 10th Uprising," a turning point in South Korea's democracy.Police said that crowd the gathered in downtown Seoul was no more than 100,000 whereas organizers of the march said the number reached 400,000.Organizers of the march said that as many as 1 million students and citizens gathered in downtown Seoul and 40 other major cities around the world on the day. The organizer "People's Meeting for Anti-Mad Cow Disease" is composed of 1,750 civic groups.Literally, people from all walks of life and of all ages took part in the largest rally since 1987's "June 10th Uprising" when 130,000 people assembled in downtown Seoul in a pro-democracy demonstration.They included teenagers, fathers carrying sons on the shoulder, mothers with babies, senior citizens, Buddhist monks, Catholic fathers and nuns, street vendors, university professors as well as college students and young working people. They chanted "Down with Lee Myung-Bak."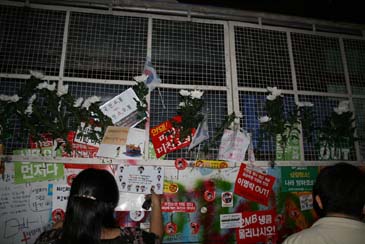 Protestors calling for nonviolent demonstration on June 10, 2008.
Tens of thousands continued their demonstrations until early the next morning on June 11, 2008. There was almost no violence as the protesters stuck to the principle of peaceful march."People's Meeting" gave an ultimatum to President Lee Myung-Bak to revoke his decision to resume U.S. beef imports and start renegotiating it with the U.S. government no later than June 20, 2008."We order President Lee to do this by the name of people, otherwise President Lee will face strong uprising from the people," warned "People's Meeting."What originally started as opposition to the impending U.S. beef imports has turned into major protests calling for the impeachment and resignation of South Korean President Lee Myung-Bak and criticism of his other policies such as the proposed Grand Canal project and the privatization of businesses.Activists handed out fliers and signs while street vendors sold snacks, drinks, candles, and even light-up devil horn headbands. The massive crowd filled the streets from City Hall to Chyunggye Stream, site of the earlier beef protests, to the blockade outside the Blue House.Younger protestors, still in school uniform, have been particularly visible in the recent anti-U.S. beef and anti-Lee Myung-Bak protests. Thus a young girl holding a candle has become a sort of mascot for the rallies; she is seen on signs, fliers, stickers, shirts, and even candle cups.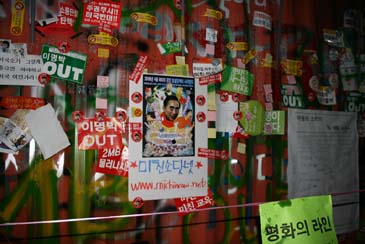 In front of the train container blockade, one group put up a string and signs reading pyeonghwa or "peace" line.
Because of the massive crowd, multiple rallies were held at once. The main speeches were given near Chyunggye Stream; other speakers with smaller P.A. systems were scattered throughout the blocked-off streets.One Korea University student spoke saying, "I am embarrassed because Lee Myung-Bak graduated from my school." The president was often portrayed on posters and fliers as a cartoon rat or mouse. One mock shipping invoice showed "mad mouse" being sent to U.S. President George W. Bush from South Korea."No mad cow to Korea" and " Let's criticize Lee Myung-Bak," were chants often heard throughout the evening. Fliers read "Crazy beef out! Lee Myung-Bak out!"Outside of the Blue House, train containers were stacked and covered in grease to prevent protestors from getting to the president's residence. Behind the containers, riot police waited behind and on top of buses for any particularly rowdy protestors.There is some opposition even within the group, though. While most are calling for "a better deal on American beef," some more extreme activists are calling for President Lee's resignation.At one point, some men starting stacking large Styrofoam blocks in an attempt to climb the containers, but a pacifist group told them it was dangerous and to get down. The men, giving into the crowd's chants, stopped climbing and took the Styrofoam blocks away. The nonviolent group strung a line across the containers with signs reading "Peace Line" and other such phrases. The group also made a physical line with their bodies and signs.Last week saw some protestors wielding steel pipes, in response to such activity, the pacifist group invited young men who had recently finished their compulsory military duty to stand in front of the containers.Most protestors feel violence will not help their cause. After some crowd opposition one group agreed to untie ropes they were going to use to try to pull the containers and open the blockade.White flowers — usually seen at funerals — were put up on the container walls and stuck in any open crack on police buses to signify the "death" of Lee's presidency. More death symbolism came in the form of a silent group dressed in black wearing gothic makeup — looking like the traditional Korean ghost
gweshin
— and holding umbrellas.Less than four months after being inaugurated and winning the presidential election by a historical margin, some are calling for Lee's impeachment or resignation. The president's entire cabinet has offered their resignation, but it is still unknown whether the president will accept.