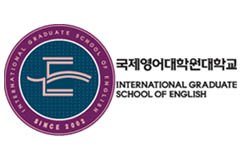 Since its founding two years ago, a graduate school of English in Korea has strived to realize its motto, "Tiny but Shiny," and its efforts are now paying dividends.
Launched in September 2002 with 50 students,
International Graduate School of English
, or IGSE, will send off its first graduating class in August 2004.
The graduate school, which provides full scholarships to all students, has only two departments — one for English-language teaching, another for English-language teaching materials development.
In such a short time, the school has succeeded in gaining international recognition: It was featured in the latest issue of English Today, a quarterly produced by the Cambridge University Press of Britain. In publication since 1984, English Today ranks among the world's most influential academic journals on the English language.
In an article by graduate school Prof. Jeong Young-Kuk titled "A Chapter of English Teaching in Korea," the graduate school was introduced in the April 2004 issue of English Today. It marked the first time that a Korean school was introduced to the world academic community through this journal.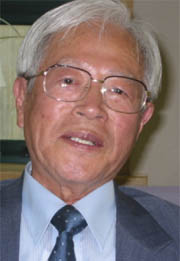 IGSE President Moon Yong
"Our school's educational purpose of producing quality English teachers and raising the level of English teaching in Korea, as well as our founder's principle of returning profits to the local community, seem to have combined to enable our school to be introduced in this journal," Moon Yong, president of IGSE, said in an interview with The Seoul Times on June 14, 2004.
Moon, who served as a professor of English education at Seoul National University for 30 years, also cited his school's granting of full-time scholarships to all students and an intensive curriculum requiring at least 51 credits to earn a master's degree, as reasons for the school's recognition.
"Korea's English education may be second to none in the world in theory, but in practice, it falls far behind other countries," Moon said. "To address that problem, we are focusing on practical English; our goal is to enable our graduates to teach the English language in English."
During all four semesters they are enrolled, IGSE students are required to take English conversation and English writing courses in small groups of about 10 students for 10 hours each week for a total of 600 hours.
School leaders believe that only by continuously investing in students they can foster quality English teachers and develop suitable English-language teaching materials.
Students of the Department of English Language Teaching have the opportunity to pursue an additional three-week training session at the University of Hawaii during one intersession, while students of the Department of English Language Teaching Materials Development can enroll in a three-week training course at Leeds Metropolitan University in England, the world's first school with a dedicated department of English-language teaching materials development. The cost of the training program is shared between student and school.
In addition, Moon said, "Over the last two years, we have organized special lectures on 26 occasions, inviting prominent foreign authorities on English education, and organized two international and local academic seminars to promote our school."
He continued, "In 10 years, we will see hundreds of graduates proficient both in speaking and writing working in Korean society, and I am confident that by that time there will be no need for Koreans to go abroad to study English."
"I will do my best to produce the best English teachers and the best English-language teaching materials specialists, so that some day our school will be the center of English education in Korea," Moon said. "We will make our school into a diamond: tiny but shiny."