SIGNAL OF CHANGE: Ashley Norkus (left) and Susan Rushing are students at Gallaudet, a school in Washington for the deaf. It now accepts hearing students.
Andy Nelson
WASHINGTON — When Bethany Campbell was about 7 years old, a deaf couple who attended her church in Fulton, Mo., began teaching her to sign. Now 21, Ms. Campbell, who hears, says that when she first registered at nearby William Woods University, her goal was to become a nurse who served the deaf community. But she enjoyed her freshman American Sign Language (ASL) courses more than she'd expected she would. "I looked forward to [ASL] class every day," says Campbell, who decided to switch majors and enrolled in the interpretive degree program. Her university is one of about 25 in North America offering a four-year degree. "Why not do something for the rest of my life that I enjoy?"Campbell has already practiced interpreting speakers at her school, and says she especially likes interpreting music. She expects to find work as an educational interpreter for a deaf student in a hearing classroom. "Each person has a totally different background and performance that they give," she explains. "It's a challenge to meet their tone and body language, to match this to your own interpretation, and change it into a whole new language."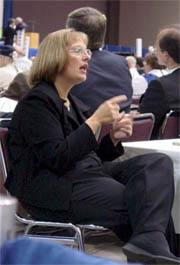 Sign language interpreter Diane Lynch makes sure deaf deputies don't miss any of the debate in a church convention.
Campbell is among a growing group of hearing people studying sign language in the US and Canada. The Modern Language Association's most recent survey of US colleges and universities shows that in terms of percentage growth, only Arabic and biblical Hebrew surpassed ASL enrollments from 1998 to 2003. From 1993 to 1998, ASL had the largest gains. A number of factors have contributed to the huge increase in availability of classes.Many of today's college students select majors that will lead to gainful employment. The Americans With Disabilities Act of 1990, which guarantees deaf and hard-of-hearing people the right to interpretive services, has ensured steady work for interpreters. The salary for an entry-level interpretive job is comparable to that of a first-year teacher.But unlike teachers, some interpreters can demand — and receive — more money. Those who have the skills and passion "could work 24 hours a day if they wanted to," according to Carolyn Ball, who directs the William Woods program."Colleges and universities can't fill their [educational interpreter] positions because there are not enough people with degrees."Historically, many colleges didn't offer ASL courses, and wouldn't accept credits from other schools. Linguistic research about the complexities of ASL grammar has helped ease some of these academic prejudices.ASL's high visibility makes a lot of people curious, especially in regions where there is a large signing population. The city of Rochester, N.Y., is one such place, as it is home to the National Technical Institute for the Deaf and the Rochester School for the Deaf.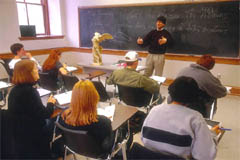 A sing language class at the Univ. of Iowa
"It's an interesting, different language," says Cathy Quenin, a speech and language pathologist at Nazareth College in Rochester. "Even if people don't have direct contact [with the deaf community], they are peripherally aware. For years, students were asking for ASL to be offered here."Three years ago, New York State changed its "foreign language" requirement to study of "a language other than English." Nazareth began offering ASL right away. It had to double its courses the next year. Similarly, when Dr. Ball taught at Brigham Young University in the 1990s, she says, they offered just two or three classes to about 75 students. Today more than 800 students study ASL there each semester.One of the popular misconceptions about ASL is that people don't have to work as hard to learn it as they do, say, French or Mandarin. Bethany Campbell bristles a bit at the suggestion: "Just like English, I'm constantly learning. I'm a junior, and there's so much more still to learn."William Woods began its program in 1990, and Dr. Ball says that some students who enroll in the university specifically for the degree underestimate how difficult it will be. "ASL 1 is very large, ASL 2 is a little smaller," she notes. "Then the interpretive classes get even smaller."For those who stick with it, a senior-year internship provides practical training. Students work in a variety of settings, such as corporate events, schools, concerts, or even a WWE wrestling match, as one student did this year.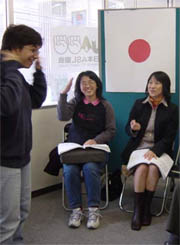 A sign language class
A deaf culture course is also mandatory to understand the two different perceptions of deaf people, says Ball. "One is pathological — deaf people are disabled, they need to be fixed with cochlear implants to be like us. A cultural view looks at the group's own norms, its language. The heart of any culture is its language." At Washington, D.C.'s Gallaudet University — traditionally for deaf and hard-of-hearing undergrads — ASL is the medium of instruction.Gallaudet is now accepting applications from hearing students fluent in ASL: Hearing Undergraduate Students or HUGS, as they're known on campus. Provost Jane Fernandes says that HUGS' enrollment in the fall will be about 5 percent.HUGS may have a deaf family member, but they're also likely to have learned ASL in high school. And although some become interpreters — the university will begin offering its own BA program in 2005 — most HUGS simply wish to work with deaf populations in their chosen profession.For students who want to learn ASL quickly, a popular summer intensive program is available. Unlike most programs that require overseas travel for true immersion, no passport is necessary. As Dr. Fernandes says, "You don't need to go to Japan to practice."
The above article is from The Christian Science Monitor.