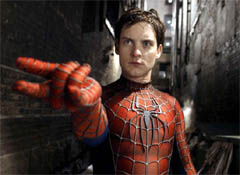 Tobey Maguire's character isn't the only strong one in "Spider-Man 2."
On the way out of the advance screening of
"Spider-Man 2,"
which opened June 30, 2004 nationwide, I asked my son, who is nearly 8 and whom I had brought along for some unscientific audience research, what he thought of the movie.As he usually does, he mentioned the scary parts and the cool parts, of which there are many. "But there was one part," he said, "that I really didn't like." That was when Peter Parker threw his costume in the trash and declared that he was "Spider-Man no more.""He can't do that," my son complained. "It's not right. We need Spider-Man."And so we do. At the very least, a movie audience brutalized by dumb, loud and cynical blockbusters can always stand to be reminded of what vibrant, intelligent and sincere popular filmmaking looks like. Directed by Sam Raimi from a story whose many begetters include the novelist Michael Chabon (the sole screenwriting credit belongs to Alvin Sargent, who wrote
"Ordinary People"
and
"Paper Moon"
), "Spider-Man 2" is full of bright colors, emphatic noises and elaborate special effects. That much is to be expected.But its distinguishing features, I'm happy to report, are strong characters and honest feelings. Like its Marvel Comics cousin
"X-Men 2,"
this sequel, freed from the dreary burden of exposition, is better than its predecessor, and also superior to most other comic-book-based movies. It has a more credible (and more frightening) villain, a more capacious and original story and a self-confidence based not only on the huge success of the first
"Spider-Man"
but also on Mr. Raimi's intuitive and enthusiastic grasp of the material.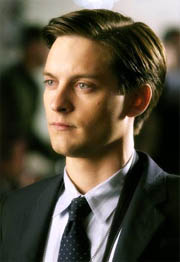 Tobey Maguire
At the end of "Spider-Man," the hero was forced to choose between superhuman powers and the earthly charms of Kirsten Dunst. It was hard not to sympathize and to wonder why poor Peter Parker couldn't have both. But the world, then as now, needed Spider-Man, and so Peter (Tobey Maguire) hardened his jaw and renounced his desperate, lifelong love of Mary Jane Watson (Ms. Dunst). The first hour of the sequel is largely devoted to exploring the consequences of this decision — to showing, in other words, what a drag it is to be Spider-Man. The weary web-slinger, though adored by the public, is mocked and maligned in The Daily Bugle (still edited by the blustery, blithely unethical J. Jonah Jameson, played with maniacal gusto by the incomparable J. K. Simmons). But the deeper wounds are suffered by his alter ego.Peter, scrambling to balance the demands of normal life with costumed crime-fighting, is fired from his pizza-delivery gig, behind on his rent and in danger of failing his science courses at Columbia. Even worse, Peter's reputation is the negative mirror-image of Spider-Man's: he is routinely described as lazy, selfish and unreliable.Aunt May (Rosemary Harris), still grieving from the loss of Uncle Ben (Cliff Robertson, in a brief flashback), is in danger of losing her house, and her devotion to Peter is edged with palpable disappointment. Even Mary Jane, whose career as a model and actress is beginning to take off, is fed up with what she takes to be Peter's habitual selfishness and excuses. Worst of all, she's engaged to an astronaut, who happens to be Jonah Jameson's son.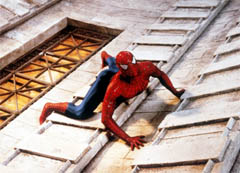 All of which leads up to that fateful moment at the movie's midpoint when Spider-Man, his webs drying up because of Peter's depression, crumples up his blue and red mask and body suit and dumps them in a back-alley garbage can. Not that his identity crisis is the only thing going on in the movie.Meanwhile, as they say in the comics, a brilliant scientist named Otto Octavius (Alfred Molina) is cooking up a dangerous and ambitious fusion project financed by Peter's best pal and Spider-Man's nemesis, Harry Osborn (James Franco). A catastrophic malfunction leaves Octavius not only a widower but also a monster, his body hauled around by malevolent mechanical legs with diabolical minds of their own.Doc Ock, as he is known in the tabloids, is Spider-Man's enemy, but there are similarities between them. The difference is less a matter of good and evil than of servitude and free choice. Unlike Spidey, poor Ock is not the master of his powers but their servant. His humanity has been crushed by the unholy alliance of big money and technological ambition that is a persistent theme in the "Spider-Man" series (and in superhero comics in general).Of course the movie itself is the product of a similar collusion, but Mr. Raimi, who cut his teeth on the gory, low-budget horror of the "Evil Dead" franchise, is not a slave to fancy computer-generated special effects. He uses them — no filmmaker working in this genre today can afford not to — but the digitized scenes of flight and fighting are the weakest parts of the movie, since Mr. Raimi does not have Peter Jackson's knack (or Steven Spielberg's) for seamlessly combining C.G.I. with more traditional moviemaking.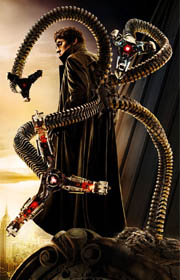 This minor shortcoming is overshadowed by a major virtue, which is that the extravagant action sequences are subordinate to the narrative rather than the point of the movie. The bright, inky Pop Art colors of Mr. Raimi's Marvelized New York (shot by Bill Pope and designed by Neil Spisak) provide a vivid background for what is, in the end, a touching and disarming love story, full of grief, longing and sweet confusion.The opening credit sequence is a beautiful montage of comic-book drawings in which the only photographic image is that of Ms. Dunst. This makes sense, since it is Mary Jane, in spite of being confined to the overlapping roles of love interest, villain bait and object of rescue, who gives this superhero allegory its surprising emotional realism. Her renunciation of passivity and longing is the key to Peter's transformation into a more human superhero. This second phase of Peter Parker's coming of age is about overcoming loneliness and the need for solace and recognition as well as about selfless, heroic purpose. Of course we need Spider-Man; the revelation of "Spider-Man 2" is that he needs us, too.
"Spider-Man 2" is rated PG-13 (Parents strongly cautioned). It has some brutally violent scenes, and kissing.
SPIDER-MAN 2
Directed by Sam Raimi; written by Alvin Sargent, based on a screen story by Alfred Gough, Miles Millar and Michael Chabon and the Marvel comic book by Stan Lee and Steve Ditko; director of photography, Bill Pope; edited by Bob Murawski; music by Danny Elfman; production designer, Neil Spisak; produced by Laura Ziskin and Avi Arad; released by Columbia Pictures. Running time: 110 minutes. This film is rated PG-13.WITH: Tobey Maguire (Spider-Man/Peter Parker), Kirsten Dunst (Mary Jane Watson), James Franco (Harry Osborn), Alfred Molina (Doc Ock/Dr. Otto Octavius), Rosemary Harris (May Parker), J. K. Simmons (J. Jonah Jameson), Donna Murphy (Rosalie Octavius), Daniel Gillies (John Jameson), Dylan Baker (Dr. Curt Connors), Bill Nunn (Robbie Robertson), Vanessa Ferlito (Louise), Aasif Mandvi (Mr. Aziz) and Cliff Robertson (Ben Parker).
The above article is from The New York Times.