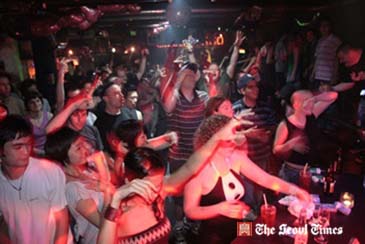 Energetic crowd at The Junglist Series events - Club Cargo
Energetic, uplifting, loud, rhythmic, pulsating, mind blowing: these are some of the words echoed from individuals who attended last weeks "Volume 17: Junglist Series" at Club Cargo in South Korea's artistic hotspot Hongdae University. For years now Club Cargo has played host to a range of events to promote underground music and musicians that many other clubs choose to shy away from. Basing their sounds around various genre's of electro and hip hop this specific evening the club featured the likes of international DJ's Blame (UK) and Siesta (CHN) as well as a string of resident maestro's who came to represent the body swaying and head nodding beats known as Drum and Bass. The jam-packed basement, booming speakers and live MC helped Cargo deliver a stimulating atmosphere notorious of this genre. Invented in Britain during the early 90's Drum and Bass can be distinguished by fast tempo broken beat drums combined with a submissive bass line. Mixing up different elements of house, electro, reggae, funk, jazz and techno samples, pioneer DJ's have formed a well polished and distinctive sound that is sometimes allied by vocals and other sound effects. Over the years this music style grew in diversity and popularity and even though today it is viewed as an underground musical style it still has a significant influence on modern music and youth culture all over the world.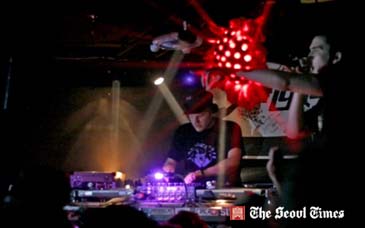 Featured DJ representing for the scene
Currently in Korea, very few venues showcase Drum and Bass and often when asking around the genre is simply not known. Recently Seoul hosted the 2nd world DJ festival and was able to showcase local skills and international artists well known within the industry. Next month Club Cargo plans to initiate the highly anticipated Konkrete Jungle series where world renowned artists will assist Korean talent in promoting different sub cultures of Drum and Bass ranging from soulful, liquid, break beat, dub step and more. There will also be a live graffiti art exhibition outside the venue by members of the creative group Barner and local favourite JNJ Crew. The internet is a valuable resource for learning more about this scene. Websites such as www.breakbeat.co.uk and www.bassdrive.com offers up to date news and tunes related to the industry. For more information about upcoming events in Seoul check out Club Cargo's MySpace page http://profile.myspace.com/ or join the Facebook group Fast Future Funk: DnB Seoul.