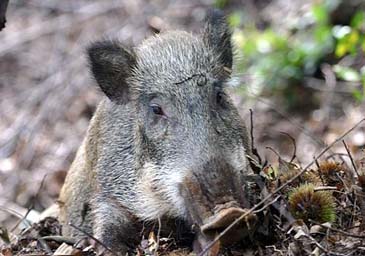 Wild boars in South Korea grow in number at such fast speed that they are threatening many cities in the nation.
Wild boars are threatening many cities and rural areas of South Korea due to its fast breeding and disappearance of its predators such as tigers, leopards and wolves.Ever since 2005, there are nearly 30 cases of wild boars attacking residents and citizens in the city, and the total crop damage last year was worth 6.5 billion won (some 6.2 million US dollars). In 2006, goats have been cruelly torn and bitten into pieces every night by an unknown creature in remote Saengil Island of Wando-gun, South Jeolla Province. About 20 goats have been killed and residents got scared without knowing what or who this monstrous killer was.After several investigations, the killer came out to be a fierce wild boar which had been eating black goats in the island. This brutal incident was finally ended after shooting a 200-kilogram wild boar. In another case, 80-year-old man died due to wild boar's attack in Yoengdong-gun, North Chungcheong Province in November, 2006.In a recent case, a herd of wild boars lurked in Dochon-ri, Nam-myeon, Yanggu-gu, Gwangwon Province and dug up all the plantation and crops such as potatoes.The residents in Yanggu-gun said that they are afraid of wild boars not only damaging the crops but also attacking people walking in the night on the street because wild boars sometimes come down into the town. "Residents who have received difficulties due to wild boars' or any other wild animals' attacks will be allowed to use shotguns and set snares to catch them," spokesman of Yanggu-gun said in Kangwon News. "We are also holding rescuing crews for wild animals' damage." The extent of damage in Yanggu district is 42,000 sq. meters and there has been 44 permissions of catching wild animals including 18 approvals for shotgun usage and 14 approvals for snare settings. Environment Ministry officials in Chuncheon also allowed their residents to kill the wild boars and animals on June 19 until Oct. 31, 2008 but it has led to so many criticisms regarding wildlife preservation. Beside using shotguns and traps, victims of wild boar attacks in other provinces are setting off firecrackers and beating metal buckets to make noises to stop wild boars from coming. Wild boars, however, do not seem to get afraid of such sounds and they are even careless about tiger's excretions that have been scattered on purpose. Also, Naphtalene, garlic and agrichemicals that drive away wild boars with the smell has no effect after seven to 10 days. The reason for fast increment of wild boars is the disappearance of their predators in South Korea after the emancipation. Demilitarized Zone (DMZ) was established and other buildings and roads that split the mountain were prosperously under construction. Thus, DMZ blocked the road to North Korea and cleared the animal passage, which ultimately destroyed wild boars' predators as well as balance of the ecosystem and food chain.
"It is really important to preserve wildlife at this point but approval of killing wild animals with traps will destroy the ecological system and its damage will be eventually returned to human beings," a citizen, Choi Hee-Young said, according to the local Kuki News.