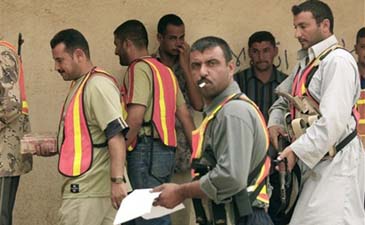 Winning over angry young men is key to enduring stability in Iraq.
LONDON — In a new report titled 'Iraq: Angry Hearts and Angry Minds,' The Senlis Council on June 26, 2006 called for a reengineering of the international community's mechanisms for responding to global security crises. The Senlis Council, a security and development policy group with research platforms in the three main War on Terror conflict theatres — Iraq, Afghanistan and Somalia — has been undertaking a series of interviews looking at the root causes of the conflicts.The Council's new research in Iraq demonstrates that current policies in the country are producing a generation of angry young men who are easy prey for recruitment to extremist insurgencies.The new Iraq findings show one striking similarity with The Council's previous research in Afghanistan and Somalia: the intense anger of the country's young men. "This crescent of anger that runs through all three of the main theatres of the War on Terror conflict is not being effectively responded to," said Norine MacDonald QC, President and Lead Field Researcher of The Senlis Council. "We need to win over these young men's hearts and minds in order to starve the insurgents of recruits and support."Iraq is a country where 45% of the population is aged between 15-30, and the unemployment rate is as high as 40% according to the UN.62% of those interviewed stated they were "often or always" angry. "Unemployment in these countries is a security issue, especially for these disenfranchised young men," said MacDonald.'Door Number Three' needed for Iraq : "Micro security" objectives must be pursued"The question being put about Iraq is 'does the military stay or does the military go?' But this is the wrong way to frame the question," said Paul Burton, the Director of Policy Analysis for The Senlis Council. "To reduce the debate to this simple binary choice is the wrong lens through which to frame the approach to long-term stability and prosperity in Iraq." According to the report, Western strategy in Iraq has suffered from poverty of innovation. "We need more than these two choices as neither one of them will take us where we need to go. We need to find 'Door Number Three," he added. 55% of Iraqis interviewed believed the US troops should leave their country. 41% believed Al-Qaeda would remain in Iraq if the US troops left. 44% believed that Al-Qaeda would leave the country if US troops departed. According to Burton, a Door Number Three approach must focus on Iraq's grassroots. "Just as we have seen the use of a military surge in Iraq, we need also to see a Job Surge and a Democracy Surge to meet the legitimate grievances of the population," he said. Current attempts at bringing democracy to Iraq have taken too much of a 'top-down' approach. 45% of the Iraqis surveyed by The Senlis Council felt that democracy did not offer them personally with the hope of a better future. "The US would do well to remember its' own political folklore: 'All politics is local," added Burton. "In the tradition of effective micro-credit programs we must pursue "micro-security" initiatives."
Change of global security paradigm needed: Reengineer for a New Global Security Architecture.
A focus upon military means to defeat terrorist groups has left other essential security objectives neglected. A response that is primarily military will not create real and lasting stability, real and lasting prosperity, or an Iraqi State friendly both politically and economically to the international community."Washington can take a quantum leap towards a shorter road out of Iraq by embracing a New Global Security Architecture. This must combine both classic military and intelligence elements with new security instruments such as employment and the achievement of the Millennium Development Goals." said MacDonald."The present system simply cannot handle the complexity of today's global security issues, and is no longer fit for purpose," she added. "This new system of conflict management must plan for the worst situation while hoping for the best. There must be sufficient contingency planning to handle the most complex of security challenges. The present infrastructure cannot respond effectively to what we have now, let alone future worst case scenarios."In the new Global Security Architecture we need to retain the classic instruments of military power and intelligence, but also consider non –military and intelligence endeavours. It must embrace a new genre of non-traditional security instruments: employment, and achieving the Millennium Development Goals, capital investment, human rights, civil society and an independent media are all essential elements of the conflict resolution toolkit, and as such, must be given the necessary political and financial backing of the US and international community, the report stated.Contact:
Julian Mattocks
Office : +44 207 953 3755
Mobile : +44 7757 729 433
mattocks@senliscouncil.net
The above article is from The Senlis Council.