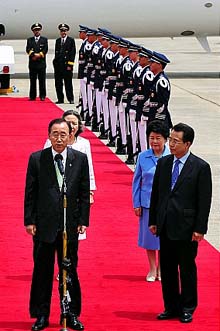 UN Secretary General Ban Ki-Moon is greeted by Prime Minister Han Seung-Soo on his arrival at Seoul Ariport (K-16 Air Base) in Seongnam east of Seoul on July 3, 2008.
United Nations (UN) Secretary-General Ban Ki-Moon's visit to South Korea was greeted by cheering crowd as the Korean-born UN chief came to his homeland on July 3, 2008 for the first time since his inauguration.During his five-day visit Mr. Ban will pay a visit to President Lee Myung-Bak. He will also meet with a variety of top politicians, government officials, cultural and social figures, top foreign envoys, and his hometown people. He also received a honorary doctor's degree from his alma mater of Seoul National University.Mr. Ban arrived at about 1p.m. at Seoul Airport (K-16 Air Base) in Seongnam City east of Seoul and greeted by the Prime Minister Han Seung-Soo, who once served as Ban's senior. When Mr. Han served as president of the General Assembly of the United Nations from 2001 to 2002 Mr. Ban was his chief of staff."I'm really happy and deeply moved to visit my homeland and meet people after 18 months since the inauguration on January last year," Mr. Ban said. "I should have come earlier but I had to handle urgent international issues and I'm really sorry to get my visit so delayed."According to Yonhap News Agency, Mr. Ban is considering a measure to strengthen the cooperative relationship between South Korea and UN and share opinions on the North Korean nuclear issues.Mr. Ban will also have a conference on the security issues of Northeast Asia and disputed regions such as Darfur in Sudan as well as climate change and food shortage crisis.Mr. Ban told the media that as UN secretary-general he will do his best to increase South Korea's national strength.He stressed that South Korea should contribute to the UN corresponding to its economic strength for the world community suffering from climate change, soaring oil and food shortage.On the arrival day, Mr. Ban also received an honorary doctorate from Seoul National University. Mr. Ban graduated from the university with BA degree in diplomacy in 1970. In the evening he attended a reception hosted at Hyatt Hotel by United Nations Association of the Republic of Korea. A host of top foreign envoys serving in Seoul visited the reception to see the top UN diplomats.At the reception Mr. Ban met with nation's first astronaut, Ms. Yi So-Yeon, who will be sent to South Korea's Dongmyong troops which are involved in UN Peacekeeping Operations(PKO) .Mr. Ban came to Seoul at invitation of the South Korean government. He will be making a courtesy call on the presidential residence of Cheongwadae to meet with President Lee Myung-Bak on July 4, 2008. Mr. Ban will also have discussions with Prime Minister Han Seung-Soo and Minister of Foreign Affairs and Trade Yu Myung-Hwan.Mr. Ban is planning to visit his hometown in Eumseounggun, North Chungcheong Province. He will also attend a meeting at Cheongju University on July 5, 2008.On the following day he will be joining the breakfast meeting with Minister of Unification Kim Ha-Joong.On July 7, 2008 Mr. Ban will leave the nation for Hokkaido capital of Sapporo in Japan to attend the G8 summit slated for July 7-9, 2008.
Who Is Ban Ki-Moon?
South Korea's UN Secretary General Ban Ki-Moon (潘基文)
Mr. Ban Ki-Moon has been serving as UN secretary general since Jan. 1, 2007. He was elected as the UN's chief diplomat Feb. 14, 2006.Mr. Ban Ki-moon, who was born on June 13, 1944, has served as minister of foreign affairs and trade of the Republic of Korea since January 2004. He received his Bachelor's degree in International Relations from Seoul National University in 1970. He earned a Master's degree in Public Administration from the John F. Kennedy School of Government at Harvard University in 1985. His first overseas posting was to New Delhi, India. After working in the United Nations Division at headquarters, he served as First Secretary at the Permanent Observer Mission of the ROK to the UN in New York. He subsequently assumed the post of Director of the United Nations Division. He has been posted twice to the ROK Embassy in Washington D.C. Between these two assignments he served as director-general for American affairs in 1990-1992. He was promoted to the position of Deputy Minister for Policy Planning and International Organizations in 1995. He was then appointed National Security Advisor to the President in 1996, and assumed the office of vice minister in 2000.
His most recent post was as Foreign Policy Advisor to the President Roh Moo-hyun.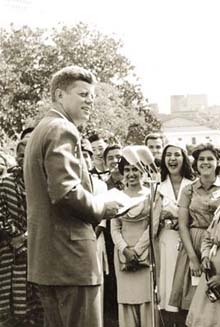 UN Secretary General Ban Ki-Moon visited the U.S. to meet with US President John F. Keneddy at the White House. Mr. Ban was 18-year-old high-school student (in circle) representing South Korea in the summer of 1962 when he and other youth representatives of other countries were invited by the late US president.
While serving as Ambassador to Austria, he was elected as Chairman of the Preparatory Commission for the Comprehensive Nuclear-Test-Ban Treaty Organization (CTBTO PrepCom) in 1999. During the ROK's Presidency of the 56th Session of the UN General Assembly (GA) in 2001, he worked as Chef de Cabinet of the President of the GA. Mr. Ban has been actively involved in issues relating to inter-Korean relations. In 1992, he served as vice chairman of the South-North Joint Nuclear Control Commission, following the adoption by South and North Korea of the Joint Declaration of the Denuclearization of the Korean Peninsula. In September 2005, as foreign minister, he played a leading role in the diplomatic efforts to adopt the Joint Statement on resolving the North Korean nuclear issue at the Fourth Round of the Six-Party Talks held in Beijing, China.Mr. Ban was elected as UN secretary general in 2007.Mr. Ban has twice been awarded the Order of Service Merit in 1975 and 1986 by the Government of the Republic of Korea. For his accomplishments as an envoy, he received the Grand Decoration of Honor from the Republic of Austria in 2001.A year later, the government of Brazil bestowed the Grand Cross of Rio Branco upon him. In September 2005, the Korea Society in New York honored him with the Van Fleet Award for his contributions to US-ROK friendship. Mr. Ban is married and has a son and two daughters.