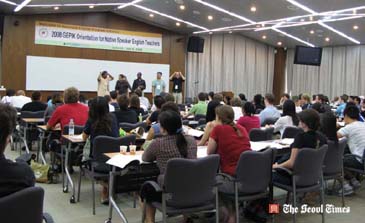 GEPIK schools English teachers
Around 350 foreign assistant English teachers, involved with the Gyeonggi English Program in Korea (GEPIK), gathered at the prestigious Hyundai learning centre in Yongin City from the 23rd of June to the 4th of July to converse on and be informed about issues relating to effective teaching and a successful stay in Korea. The two week orientation program got split into two parts with the first week focusing on Elementary school learning and the next on advising Middle and High school teachers. I was fortunate enough to be invited by the Gyeonggi provincial office of Education (GPOE) to the first week of this program. Teachers received a sincere welcoming from members of the department and event co-ordinators and during the week they got treated to traditional Korean dancing, music and varied cuisines. Throughout the five day workshop I got to interact with teachers from invited countries including South Africa, England, Ireland, Scotland, Australia, New Zealand, Canada and the United States. This was a refreshing and meaningful summit as in most cases assistant English teachers are surrounded by Korean nationals and rarely get the chance to communicate freely in their native tongues. A key feature of this program — which greatly contributed to its success - was that teachers got briefed on and were able to question the department and experienced guest speakers on almost every topic related to their employment situation.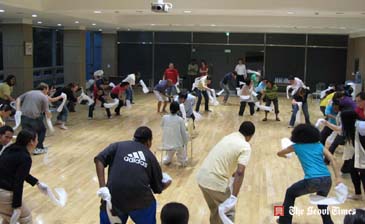 GEPIK schools English teachers
Issues that were directly highlighted were living and housing arrangements, the language barrier and Korean customs, social well being, correct teaching methods and their working environment. This lead to a stimulating question and answer session that is often not provided to foreign teachers as there were a lot of positive as well as concerning points brought forward relating to the current curriculum, schooling situations and staff relationships. The audience were attentive as every session had new speaker's present invaluable tips on various teaching skills and kept their attention by offering needed teaching activities, relative video clips, games and useful websites. The speakers often invited teachers up to demonstrate how effective these resources can be which was both entertaining and helpful to watch. For future reference the speeches and activities were printed and offered to each attendee in a work book, proving that a lot of preparation went into this seminar to ensure that it was worth remembering. GEPIK put a lot of effort into ensuring that Korean customs and culture gets highlighted and respected in and outside the classroom. Each night a different element of Korea was showcased ranging from films to a traditional 'Samulnori' dance and music class giving guests an improved outlook on Korean tradition and kindness. It was evident that this program was aimed at elevating teacher's efficiency and attitude toward their jobs — at a cost of W500 000 per attendee its clear that Korea is fast becoming one of the leading Eastern countries in promoting global culture and education based language exchange. It is clear that this nation places great emphasis on educating their youth and more so the efficiency of the teachers. At a conference of this size and vast cultural diverse it's always hard to inspire everyone to be better instructors as in most cases individuals have different motivations for coming to teach here. Thus the speakers focused on the teacher's outlook on being here questioning their attitude and behaviour and if they'd performed the same, would it be accepted back home in their own countries. I thought the organisers did a good job at getting everyone aware of the importance and great responsibility of being a teacher. The speakers were great at emphasizing the need of fun filled and interactive lessons; positive team teaching and encouraging a group orientated environment — especially for bigger classrooms where, unfortunately, some Foreign English teachers face the daunting task of presenting a meaningful lesson for up to 40 students. Whether they've been teaching for 40 years or four weeks I think all who attended gained a deeper insight into their job and lifestyle, equipped with various resources each person should have left the program wondering, "How can I be a better teacher?" With that achieved and the many opportunities to network and create good friendships I thought the orientation and effort put into in was surely well worth it.