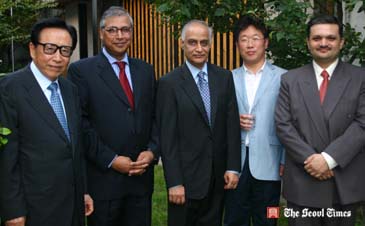 Pakistani Ambassador to Seoul Murad Ali (second from left) poses for the camera with Mr. Asaf Ghafoor, commercial counsellor (his right), Mr. Kim Dong-Hae, director of the Myung Dong St. Mary's Eye Center (second from right), Mr. Fuad Hashim Rabbani, new commercial counsellor (far right), and Mr. Kim Young-Il, honorary consul general of Pakistan at the residence of the Pakistani ambassador.
Pakistani Ambassador to Seoul Mr. Murad Ali held a reception at the Embassy of Pakistan in Hannam-dong, Seoul on July 3, 2008. The reception was held for both the outgoing and incoming commercial counsellors, Mr. Asaf Ghafoor and Mr. Fuad Hashim Rabbani, respectively.
Mr. Fuad Hashim Rabbani arrived in Seoul the day prior to the reception on July 2, 2008.
Mr. Ghafoor recently finished his position as commerical counsellor for the embassy after nearly four years of serving in Seoul. "I will go back to the Ministry of Commerce in Pakistan," he says. "It is responsible for the regulation and promotion of all commerce and trade."
Just before the reception dinner Ambassador Ali gave a speech for Mr. Ghafoor and Mr. Fuad Hashim Rabbani. "This is a sober occasion, but we are also welcoming a new commercial counsellor." The ambassador gave his best wishes for all to cooperate with Mr. Fuad Hashim Rabbani for a successful job in Korea.