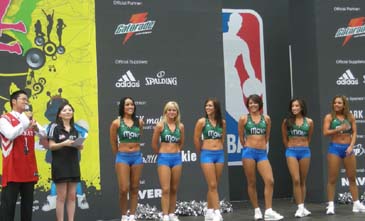 Cheerleading team for Dallas Mavericks, also known as Mavs, visited Yongsan, Seoul for NBA Madness Korea on July 3, 2008.
NBA Madness Korea 2008 presented by Electronic Arts (EA) was held at I' Park mall in Yongsan, Seoul on July 3 to July 6, 2008. The second NBA Madness event held in South Korea is the interactive basketball event that provides basketball games, basketball contests, musical performances and basketball players and cheerleaders' special appearances for all the fans in South Korea. This year, the point guard for the NBA's Los Angeles Lakers, Jordan Farmar visited Seoul to meet his fans through NBA Madness Korea 2008. Farmar, who was previously the starter for the UCLA Men's basketball team, is known as the all-rounder for his outstanding athletic movements. He was awarded as 2006-2007 NBA Rookie team and 2007-2008 NBA Sophomore team. Six members of the cheerleading team for Dallas Mavericks, also known as Mavs, and New Orleans Hornet's mascot Hugo also attended the NBA Madness to give special performances for the fans. According to the first Korean basketball magazine Jump Ball News, EA NBA Madness 2008 showed NBA's advanced sports marketing strategy and was favorably commented upon its entertaining and commercial success.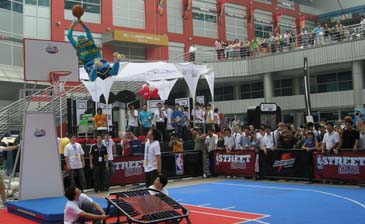 The Slam Dunk Contest in NBA Madness Korea 2008 was highly popular among the basketball fans.
The sponsor EA attracted many people with a game booth that allowed basketball fans to play "NBA Street Online Game" that is soon to be released. Many fans who visited the game booth were completely absorbed in playing the game, and drinks and folding fans provided from the booth drew even more people. Variety of basketball events such as "NBA Street Online Slam Dunk Contest," "Gatorade 3-point shoot out" and "Adidas Basketball Clinic" were highly popular among basketball fans and they were all packed with people trying to join the events that offered prizes to the winners. Basketball fans could meet their favorite players including Jordan Farmar and the star of Korean Basketball League(KBL) Kim Woo-Jin, the forward of Ulsan Mobis Phoebus. Fans also had chance to learn basketball with Farmar and Kim in "Adidas Basketball Clinic.""I was really happy to see and get along with the NBA player. It was fun to join many event booths that I could participate actively. I hope there will be many events that I can append time with KBL players as well," Kim Kyung-Dae who joined "Adidas Basketball Clinic" said in Jump Ball News.