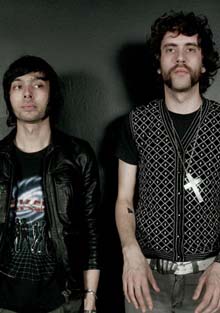 French dance duo Justice will perform at Seoul's Club Answer on August 8, 2008.
Gaspard Aug? and Xavier de Rosnay, better known as French duo Justice, will come to Seoul for a one night only event. Justice will act as DJs on August 8, 2008 at Club Answer in the popular Cheongdam-dong clubbing district.The duo famously beat out Kanye West at the 2006 MTV Europe Awards with artist Simian for their video "We Are Your Friends." An upset West unexpectedly took the stage claiming he deserved to win the award for his "Touch the Sky" video. Justice's 2007 debut album
Cross
was nominated for the Best Electronica/Dance Album Grammy; the single "D.A.N.C.E." won the Best Video Award at the MTV Europe Awards.The group first got attention by remixing the songs of lesser known French artists as well as big pop acts such as Britney Spears' "Me Against the Music" or Justin Timberlake's "Love Stoned." Currently on a globe-spanning world tour, throughout the summer and continuing into September, the duo will see Europe, America, and Asia, performing mostly at festivals. After their performance at Club Answer, Justice will continue on to Japan for the Summer Sonic Music Festival in Osaka and Tokyo.
Entrance is 50,000 won; more information can be found by calling (010) 548-7109 or at www.clubanswer.co.kr and special reservations can be made by calling (010) 4118-7115.