| | |
| --- | --- |
| | |
| Oh Kyung-Ho | Chung Chong-Teck |
More than 1,600 taekwondo contestants and officials from 61 countries have gathered in Cheongju, North Chungcheong Province, to attend the 2004 World Taekwondo Festival & 6th Korea Open, organizers said. Under the theme "We are One Through Taekwondo," the annual festival, which kicked off June 30, 2004, is scheduled to continue until July 7. The event, which was first launched in 1998, is being organized by Chung Cheong University. "The festival serves as a good opportunity for the world's taekwondo family to get together, regardless of their religion, nationality, age, sex and culture," said Oh Kyung-ho, chairman of the festival's organizing committee. He is better known to foreigners as Oscar Oh. The festival is aimed at spreading the idea that the spirit of taekwondo and its family can bring peace and harmony to the world, Oh said, adding that it is also aimed at suggesting that taekwondo be used as an educational model for the youth to become more disciplined and respectful, as well as developing taekwondo programs for the future leaders of the world.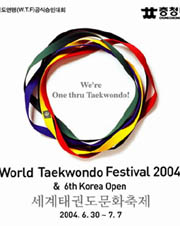 Organizers said the festival will feature individual and team sparring, or "gyeorugi," for three days starting July 1, and forms training, or "poomsae," on July 4-5, along with techniques for breaking objects, self-defense and taekwondo gymnastics. Among special events during the festival are a seminar by grand master Jhoon Rhee, better known as "the father of taekwondo" in the Untied States, on June 30, a jazz dance show on July 2, an aerobics and hip-hop dance show on July 3, a well-being event July 4-5, and a dance contest on July 4, they said. Nail art, hairstyling, face painting and scalp massages will be also offered for free at the Cheongju Gymnasium July 1-3 and at the convention center of Chung Cheong University on July 4. Chung Chong-teck, president of the festival's organizing committee said, "In such a short period of time, we have succeeded in establishing our festival as one of the most prestigious international taekwondo events, given the sheer number of participants." Choue Chung-won, new president of the World Taekwondo Federation, is expected to deliver a congratulatory message during the opening ceremony of the festival set for July 1.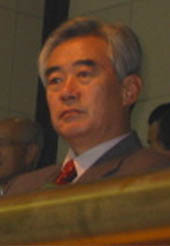 Choue Chung-won
The Seoul-based WTF elected Choue new president at its extraordinary general assembly on June 11 in Incheon, west of Seoul. Kim Un-yong resigned from the top WTF post in early 2004 as he was under prosecution investigation over bribery and embezzlement allegations. One day after his election, Choue attended the opening ceremony of the 5th World Junior Taekwondo Championships held in Suncheon, South Jeolla Province. Choue promised to push ahead with reform programs for the WTF, making its management more transparent.