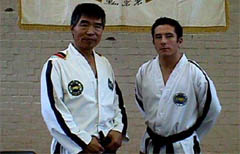 Grandmaster Rhee Ki-ha with his student
"There are no differences in South and North Korean taekwondo, the Korean national sport," the vice president of the North Korea-led International Taekwondo Federation (ITF) said Tuesday.Taekwondo, a Korean martial art, is currently overseen by two organizations globally — the World Taekwondo Federation, set up by International Olympic Committee Vice President Kim Un-young of South Korea and the ITF, headed by Chang Ung of North Korea, also an IOC member.In 1985, there were indeed the first attempt to unify the two groups, albeit failed, recalled ITF vice president Rhee Ki-ha, who is visiting Seoul to attend a forum on globalization of taekwondo. Born in South Korea, Rhee has so far travelled around the world to disseminate taekwondo since he first went to Singapore under the government's auspices in 1964. He is a British citizen now.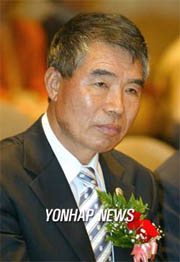 ITF Vice President Rhee Ki-ha
"This is the right time for the two sides to discuss their unification." he said, Rhee disclosed a will of Choi Hong-hee, the deceased North Korean who established the ITF, in which he yearned for the integration of South and North Korean taekwondo. "My one and last hope is the unification of taekwondo. It's really meaningless to separate Southern and Northern taekwondo," Choi said.Choi had served as commander of an army corps in South Korea, ambassador to Malaysia and head of a national taekwondo federation, and emigrated to Canada in 1972, where he launched the ITF. Later, he touched off a taekwondo boom in North Korea, which gave him a special acquaintance with the late North Korean leader Kim Il-sung."Now that the first generation of taekwondo masters has reached their retirement time, what we can do for our next generation? Let's find ways to unify (taekwondo)," Rhee said."We could move step by step toward one taekwondo with an open mind." Praising former WTF president Kim Un-young for devoting himself to making taekwondo an official Olympic sport, Rhee said that ITF Secretary-general Whang Kwang-sung, who was one of the late Choi's favorite disciples, will try hard to integrate the two taekwondo organizations.Chang and Kim met in August last year on the sidelines of the 2003 Universiade held in the South Korean city of Daegu, to reopen consultations on taekwondo unification. No progress has been made thus far.
The above article is from Yonhap News.