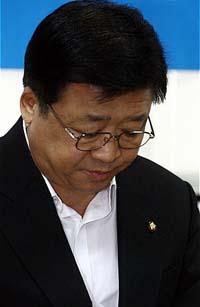 South Korean Ambassador to Tokyo Kwon Chul-Hyun
Photo Courtesy of Newsis
South Korea announced on July 14, 2008 that it will recall its ambassador to Japan in protest against Tokyo's renewed claim to a cluster of South Korean-controlled islets, saying it is "unacceptable and intolerable."Ambassador Kwon Chul-Hyun will return to Seoul soon on a temporary basis, Foreign Ministry spokesman Moon Tae-Young said, releasing a statement denouncing Japan's new educational guidelines which define Dokdo as part of its territory.South Korean Foreign Minister Yu Myung-Hwan summoned Tokyo's top envoy in Seoul Toshinori Shigeie later in the day to deliver a protest message.The teachers' handbook to be used from 2012 puts the Dokdo issue on par with Japan's long-running dispute with Russia over the sovereignty of four islands currently under Moscow's control.It calls for teachers to help deepen students' understanding of what it says are disputes over the ownership of Dokdo."The government can never tolerate this and strongly urges the Japanese government to immediately stop the attempt," Moon said in the nationally-televised statement.He reiterated Seoul's position that Dokdo clearly belongs to South Korea "historically, geographically, and by international law," "The government makes it clear again that it will deal sternly with any attempt to undermine its sovereignty over Dokdo," he said.Seoul's official stance is that there is no territorial dispute over Dokdo as it is undoubtedly South Korea's territory.