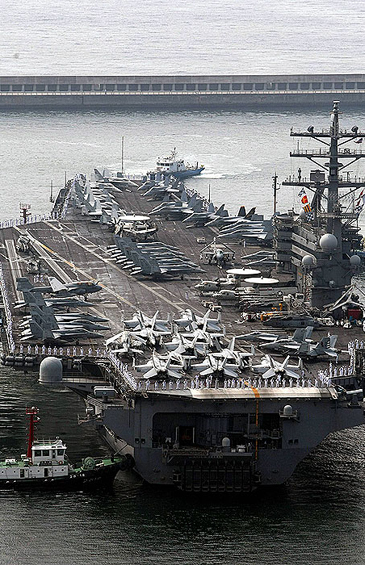 USS Ronald Reagan (CVN-76), a Nimitz-class nuclear-powered supercarrier, is seen entering the South Korean naval base in the port of Busan on the morning of July 14, 2008.
Aircraft carrier USS Ronald Reagan and other ships in its strike group arrived at the South Korean port of Busan on the morning of July 14, 2008.The second port call of the Nimitz-class nuclear-powered supercarrier to the port city is to promote friendship with the South Korean navy.During the five-day goodwill visit, Officer and crew members will get a close-up look at South Korea's biggest port city. Busan is also the second largest city of South Korea with a population of nearly 4 million.The sailors will also be involved in a variety of events with the local people, which include visits to orphanages.The Reagan, which is more than 1,000 feet long, rises 20 stories above the water and has a 4.5-acre flight deck and 60 aircrafts.U.S. military newspaper Stars and Stripes reported that the USS Ronald Reagan is the flagship of Carrier Strike Group 7, deployed to the U.S. 7th Fleet operating in the Western Pacific.
The carrier is now docked at the South Korean naval base in Busan. According to the newspaper two other vessels in the strike group, the cruiser USS Chancellorsville and guided-missile destroyer USS Gridley, are also visiting Busan.
The three ships carry about 6,660 sailors total.Two other strike group ships, the guided-missile destroyers USS Decatur and USS Howard, are docked at Jinhae, South Gyeongsang Province. Each destroyer has about 300 sailors.In both cities, sailors will divide their time between community relations visits to such places as local orphanages, and sports and social events with South Korean sailors and soldiers.One highlight of the visit promises to be the time the Reagan's sailors spend with their South Korean naval counterparts. "It's the sailor-to-sailor interaction that people remember most" from such visits, she said.Visits to a nursing home, a vocational training center, and homes for orphans, the elderly and the mentally disabled — six trips in all — are also scheduled for the Reagan's crew.The Reagan was last in South Korea in March 2007 with a port visit to Busan.The ship was commissioned in July 2003 and is the ninth and newest Nimitz-class aircraft carrier.