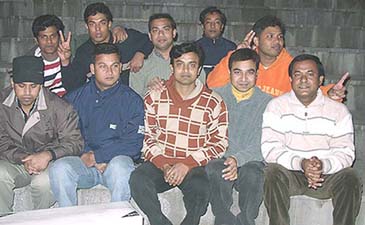 Foreign workers chasing the Korean dream.
Photo courtesy of Ohmynews
In South Korea, there are currently 500,000 foreign workers from China, Pakistan, Vietnam, Nepal, Thailand, Uzbekistan and 230,000 of them are illegal immigrants, according to Chosun.com. Along with the "Korean dream" boom, foreign workers made 47.1% of total 1,066,291 foreigners living in South Korea. The "Korean dream" boom was especially seen in a high school in Islamabad, Pakistan where the Korean language test carried out by Human Resources Development Service of Korea was held on June 15, 2008. 197 men took the test and only 3 people were absent. On the day, 10,352 Pakistani took the Korean language test in 11 examination places in Pakistan. The absent rate was only 3.6% The high percentage of participation in an examination is because Pakistan is under Employment Permit System that allows Korean employers to hire foreign workers when facing labor shortages and only Pakistani who passed the test can receive the plane ticket to South Korea.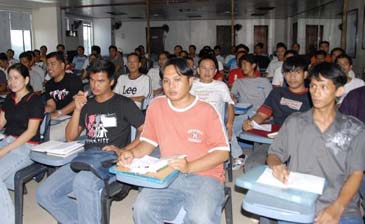 Philippine workers studying Korean to get the plane ticket.
Majid Sharmirkhan said in Chosun.com that he rode on a bus for five hours from the disputed region Kashmir to take the Korean language test. "I studied Korean for night and day for three months to go to Korea and support my parents and 5 brothers," Sharmirkhan said. When Benazir Bhutto was assassinated on December 27, 2007, the first Korean language test expected on December 30, 2007 was delayed to January 1, 2008. Despite Bhutto's death three days ago, participation rate was 97.7% on the examination day. The reason that a lot of foreigners wish to come to Korea is the high wages and low-priced expenses along with Employment Permit System. Foreign workers are protected with the same labor conditions and human rights as native workers so they are guaranteed with the minimum wage. Thus, if they work for 44 hours a week they can definitely get minimum wage of 850000 Won ($849.75). The average wage is about 1,200,000~1,300,000 Won ($1,199.64~1,299.61). In Pakistan, many Pakistanis are currently having severe difficulties finding a job. Even though Pakistani man graduates from a college, the maximum wage he can earn is 15,000 Rupee ($229.93, W 230,000). According to Ministry of Justice, the wage in South Korea is nine times the wage in China, 25 times the Nepal and 23 times the Mongolia. Hapis Tarek from Pakistan worked at the press factory in Busan for six years ever since 1999 and he earned 70,000,000 Won ($69,979). When he returned to his hometown, he opened the biggest Korean mart in the city and earned even more money. "I had learned Korean people's diligence and applied Korean way of management to my market and easily earned a lot of money," Tarek said in Chosun.com .