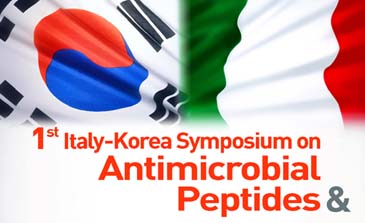 Symposium on Antimicrobial Peptides to Be Held in Gwangju.
On July 24th and 25th Chosun University in Gwangju will host the "1st Italy-Korea Symposium on Antimicrobial Peptides" along with the "8th International Symposium on Peptide and Protein Materials."
The Symposium is jointly organized from the "RCPM - Research Center for Proteineous Materials," of Chosun University, and the Rome University of "Tor Vergata." The office of S&T of the Italian Embassy in Seoul supports the event.The aim of the symposium is to scientifically address the worldwide health problem of antibiotics' resistance of bacteria, following new biotechnological solutions coming from peptides, amino acids chains with some tens of monomers, having very effective antimicrobial properties.The Symposium foresees lecturers from Italy and Korea who are expected to discuss the important issue of peptides from the scientific point of view, but also evaluating the technological fallout in the growing biotechnological industry.For more information, contact the RCPM (ph. 062-230-6759, fax 062-227-8345, www.chosun.ac.kr/~rcpm/iks) or the Office of S&T of Italian Embassy (Dr. A.Tata, ph. 02-796-0491, sciencekor@yahoo.it).