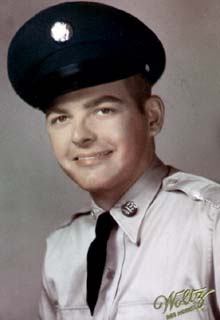 Capt. David Harold Kouba
The Hmong-American community will be putting together a memorial service to honor and pay respect to a fallen hero who was a comrade to the Laotian army commanded by Major General Vang Pao.The memorial service is scheduled for July 20, 2008 in Clovis, CA. The service will be held at the Clovis Memorial Building, in the Liberty Ballroom, locating on 453 Hughes Avenue, Clovis, CA 93612. Main program is from 11:00 a.m. to 1:30 p.m. Door will be open at 10:00 a.m.We anticipate having many distinguished guests including elected officials, services men and women, expatriates, and local and national leaders. Please, come join us to honor and pay respect to one of our fallen unforgotten comrades.For more information, please contact Thua Vang at (530) 693-0617 or at ahmongus@yahoo.com.
Re: Memorial Service for a Fallen Hero
July 20, 2008
Clovis Memorial Building
453 Hughes Avenue
Clovis, CA 93612
11:00 a.m. — 1:30 p.m.
Biography: Capt. David Harold Kouba
David H. Kouba was born on July 11, 1938 at St. Luke's Hospital in Cedar Rapids, Iowa. He was the oldest son of Harold Louis Kouba and Vida Eileen Vernon. He had two brothers, Jon Dale Kouba and Jerry Wayne Kouba. In 1944, at the age of six, his father was killed by a rock crusher in a rock quarry, leaving behind Kouba, his mother and two siblings. A year later, his mother remarried to Leland Carl Langguth where Kouba also joined by a step-sister name Kathy Lee, and a step-brother name Rick Carl Langguth. Upon graduation from Alburnett High School in 1957, Kouba continued onto college at Fayette, IA. After a year, Kouba left college and joined the US Army Reserves for a short period. He then went onto Texas Christian College where he got his pilot license and began crop dusting in Mississippi and Australia. With his skills, specifically for the job, Kouba was hired by Continental Air Services, Inc. (CASI) and began the most memorable career of his life. He flew the sky of Laos from 1968 to 1975, and flew the last Porter plane out of Laos when communist took over the country. For nearly eight years of his flight time in Laos, Kouba was recognized to have taken some of the best photos in the "upcountry" part of Laos. The panorama sweeps of various Lima Sites, including Long Cheng (LS-98), were well documented. On May 14, 1975, among few of the remaining American civilian pilots in Southeast Asia, Kouba and chopper pilot Jack Knotts flew the last "upcountry" special assignment to evacuate Jerry Daniels (Hog), who was a CIA Case Officer, and Major General Vang Pao (VP), commander of Military Region 2 of the Royal Lao Army, out of their headquarter - Long Cheng. Jack Knotts flew both Hog and VP out of Long Cheng to Muang Cha (LS-113). From there, Kouba flew both men out to safety onto Udorn (T08), Thailand. Kouba evidently concluded in his log book: "Arrived at Long Chieng at dawn to evacuate General Vang Pao and head customer "Hog." All was in turmoil. Danang, Vietnam all over. Meos were beginning to mob aircraft. We took off at 10:47 and this ended the Secret CIA base of Long Chieng, Laos."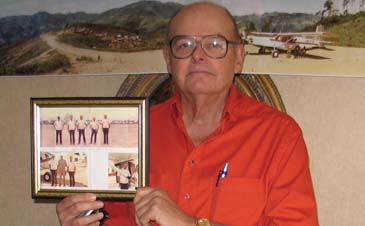 Capt. David Harold Kouba
Shortly, a month after the evacuation, Kouba left Southeast Asia, and spent the rest of his life living in the States. In 1976, following his return, Kouba married Corrine B. Calvasina in Houston Texas, and moved to Stuart, Florida where he operated a Plant Nursery Factory. He continued to fly while running the plant, and at the same time voluntarily provided shelter and support to assist Laotian refugees who were resettled in Florida.In 1992, Kouba and Calvasina terminated their 15 years marriage. Together, they had no children. Eventually, Kouba silently disappeared for a short while. Being a very private person, he chose to isolated himself from both his lifetime friends and his family, and relocated to Las Vegas, Nevada. There, in 1997, he remarried to Maria Teresa Perlaza Vargas from Colombia, and shortly after, they divorced. In September 2006, with the encouragement of his lifetime friend - Mary Dorch, Kouba finally returned to Laos to revisit some of the most memorable sites of his lifetime: Vientiane, The Plain of Jars and Long Cheng. Unfortunately, Long Cheng remains "off-limit" to outsiders so he never got to step foot on its runway again. Upon his returned from Southeast Asia, with a refreshing memory, Kouba was coincidentally contacted by Thua Vang to sit down to do an interview for a Hmong documentary. It was then that Kouba was re-introduced to the Hmong community living in the United States. On May 13, 2007, for the first time in 32 years since they last saw one another, Kouba flew to Fresno, CA to reunite with General Vang Pao, and met members of the Hmong-American community of whom many recollected riding in the Porter plane Kouba once flew some thirty years ago. Kouba expressed that it was "emotional" for him "to meet VP and the community again" but "brought back a lot of memories."Unfortunately, on April 24, 2008, Kouba was found dead in his peaceful home in Las Vegas, Nevada. Sadly, he had lost the fight to a decade old illness that eventually led to terminal cancer. Kouba died at the age of 69, leaving behind his mother, two brothers, a step-brother and step-sister, five nephews and two nieces.
Continental Air Services, Inc.
Continental Air Services, Inc. (CASI) was purchased from Bird and Son, and subsequently used by the CIA, Public Health, Public Works, USIS, and other civilian projects in Laos, Thailand and Vietnam. It also served at the request of the US government to provide backup air service and support alongside Air America in the Vietnam War and Laos' Secret War conflicts. CASI personnel flew support missions for U.S. Agency for International Development (USAID) and other governmental agencies. CASI pilots also played vital roles delivering "hard rice," food, medicine, and other supplies to both refugees and ground troops. They were sent on many night missions to re-supply the teams observing the movement of North Vietnamese troops and military supplies along the Ho Chi Minh Trail through coordination with US military ships that orbited the night sky of Laos and Vietnam. They were also involved in SAR (Search and Rescue) operations. In 1974, Air America was force to withdraw from Laos, leaving CASI to fulfill the remaining covert obligations to the US government, and they flew until the day when Laos fell to Communism. Those who were there some thirty years ago never silent about their experiences during their time in Laos. Many acknowledged it was the best time of their life.
Who are the Hmong in America?
Following French's defeat at Dien Bien Phou, the US government was concern of Communist aggression in Southeast Asia. The Eisenhower's Administration had great concern of the Domino Theory, and secretly sent special agents into Laos. With the 1954 and 1962 Geneva Accord in effect, preventing United States from sending troops into Laos, the assignment was handed to the CIA. The Hmong people of Laos were recruited by the CIA to help fight a covert war against Communist aggression in Southeast Asia. Under the leadership of General Vang Pao and the direction of the CIA, the Hmong were trained as a Tribal Army in the hundreds then grew to some 35,000. They fought courageously to deter communist invasion into Laos and South Vietnam; protected U.S. intelligence; and rescue down American pilots. However, they sacrificed heavily of their lives, homes and villages and became refugees within their own war-torn country. In May of 1975, the United States were forced to withdraw from Southeast Asia, where they abandoned the Hmong operation, leaving them behind enemy line to fend for themselves. General Vang Pao and his high ranked military officers were airlifted to safety into Thailand while hundreds of thousands of the soldiers and their families were left behind to face persecution for their alliance with the U.S. Some managed to escape into Thailand while others took refuge in the remote jungles of Laos to the present day. From Thailand, the Hmong refugees resettled in other countries such as France, Australia, Canada and the United States. Today, there are some 300,000 Hmong living in America; most of them are U.S. Citizens and highly concentrated in the States of California, Minnesota, Wisconsin and North Carolina.On June 4, 2007, the U.S. government arrested Major General Vang Pao and ten other defendants, charging them in Sacramento, CA for plotting to overthrow the communist government of Laos, an enemy the U.S. government once trained the Hmong to fight. As a result, thousands of Hmong in all ages across the country rallied in support for General Vang Pao's release. Today, General Vang Pao and the other ten defendants are put under house arrest pending their fate in the U.S. Federal Court.