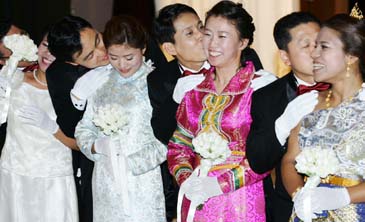 Internationally married couples are celebrating their wedding day.
The Ministry of Gender Equality (MOGE) reported that 47.7% of female immigrants married to Korean men have experienced violence or were forced to divorce from their husbands in a recent year. According to MOGE's survey of 10,000 families from May, 2007 to January, 2008, the Korean husbands' violence to foreign wives was 7.4% higher than couples in general.According to OhmyNews, the violence and enforcement to divorce among internationally married couple comes from Korean men's distorted thought that they bought their wives with money. The Korea National Statistical Office's data on April, 2007 showed that the divorce rate among internationally married couple is also rapidly increasing.There were 401 divorces in 2002, 4,010 in 2006 and 5,794 in 2007. It shows that the divorce rate has increased 44.5% from year 2006 to 2007 and five times more since 2002. In addition, the average marriage term for intermarriage is only 3.3 years. The reasons for divorce include difficulty of working due to foreign wife's inability to take a phone call and wife's too much chattering during the farming season, according to OhmyNews. Experts say that the most serious problem comes from Korean men's belief in patriarchy. Thus along with the thought that they bought their wives with a lot of money from poor countries, Korean men force their foreign wives to obey and cause violence if their wives do not listen. Also, there has been an incident of husband abandoning his foreign wife to the unfamiliar street intentionally. He reported that his wife had run away and divorced his wife. In intermarriage case, if the foreign partner runs away and do not come back for six months the couple gets divorced automatically. The businesses that mediate the intermarriage and commercialize Asian women as women from patriarchal society are also the cause of the problem. According to Ohmynews, the intermarriage companies introduce Vietnamese women as "obedient and indifferent to age difference" and Mongolian women as "women who like to serve parents and have a strong maternal affection," Due to the severity of family violence among internationally married couples in South Korea, the minister of MOGE Byun Do-Yoon will hold educational system on the right knowledge about the sexuality for Korean men planning on the international marriage starting from August. "Korean men's sexual and verbal abuse to their foreign immigrant wives is an urgent issue that cannot be watched over," said Byun in Womennews.
MOGE will pre educate 1000 men in 2008 and try to make it mandatory next year after the discussion with Ministry of Justice.