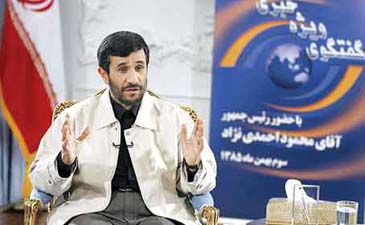 Iranian President Mahmood Ahmadi Nejad
The whole world is passing through a phase of inflation and starvation that has never been imagined so far. These rising prices can be directly related to day by day increasing anarchy. Despite heavy price rise in crude, there can also be called responsible for the increasing inflation, the worsening condition of the people. The United Nation Organization has for the first time expressed its deep concern over this issue. It has said to act upon a special plan to deal with the food problem caused by inflation in the world. The United Organisation has expressed that it required a lot of capital to fight for this humanly work. It is not so that only poor and developing countries have fallen in the trap of inflation or food problem or depreciation of money, but even America that is considered to be the most powerful and economically most strong country has fallen in the spiral of this present world disaster. It is being said that America is facing the greatest depression even so for. American dollar is falling in international value. Inflation and unemployment are also touching the record level there. Some experts are of the view that America specially the politics of President George W. Bush is responsible for the critical condition of the world. The unreasonable war by America on Iraq and its being stretched continuously is the main reason of the worsening condition in the world. Here starts the price rise of crude. Despite America is trying to prepare fuel from food grains and that is causing the food problem of the world. But not caring about these circumstances, it looks that president Bush wants to play a bloody war before the end of his term. On one side the messenger of peace Nelson Mandela is giving a call on his 90th birthday, 'to end the poverty' Mandela has given an appeal to the countries to help those countries that are unable to fight poverty and starvation. On the other hand President Bush is planning to play a game with nuclear weapons, before the end of his term.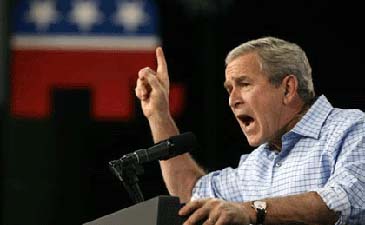 US President George Bush
American president Bush has asked Israel army not to hesitate to attack with missiles on the nuclear establishment of Iran. Bush has inspired Israel to fight against Iran and told its leadership that he is with Israel in every way. The things are not limited to the inciting statement of Bush but Israel is also making use of those American military establishment that are near Iraq-Iran border and are being used as American military establishment and can be helpful to Israel to beat everywhere in Iran. During these circumstances, to give call to the Israel army to attack Iran nuclear establishment is a matter to worry. George Bush has given this statement just after a few days of Iran having tested the missile test. As Iran have done some missile tests a few days ago. Iran has clarified that these test are mere reactions of the military challenges continuously being received from America and Israel. These tests should not be taken as warning or a danger for gulf countries. On one side, George bush is misguiding the world to have Iran on his aim as it was in the case of Iraq and on the other side many American military commanders and other American high officials are worried because of the destructive policy of President Bush. These military officers consider American military interference in Iraq a great blender. These military officers do not want America to revise the same mistake in Iran. That is why President Bush wants to use the shoulder of Israel army for it. At the same time Iran president Mehmood Ahmedi Nejad accepts that after the election of president in America, there will be improvement in Iran-America relations. According to president Nejad, the next president may be from democrat party or republic party but Iran is hopeful that there will be good relations with America in future, Iran has agreed to have discussions in future with all countries including America except the Jews ruled Israel. A strong democratic US presidential candidate Barack obama, during his election campaign has pleaded to start a political talk with Iran. It is known that the political relations between America and Iran has ended in 1979 when during the Islamic revolution in Iran, thousands of extremists students had controlled the American embassy. This control of students on embassy remained for 444days. After this incident America broke away the political relations with Iran that could not be restored till now. After that, during Iran-Iraq war, American help was sent to Iraq. This also created a distance between America and Iran. But there had been a tri-lateral talk among Iran-America and Iraq, about the law & order conditions prevailed in Iraq. But since the time, present American president George W. Bush took over the rule, the relations between America and Iran worsened. Even president Bush has called Iran the 'Axis of Satan.' Nuclear programme of Iran which is being called by Iran Government as a programme to fulfill its power energy requirements, George Bush is calling it as an attempt for preparation to make nuclear weapons by Iran. President Bush has put much sanction on Iran. He now has his heartiest desire to attack Iran as he feels it difficult to narrate the desire of his military commanders and even because of political opposition there. Whereas the world is well aware of the fact that Israel alone does not dare to do it. It can not attack Iran without getting protection from America. Last year I was astonished to hear that the name of a man of aggressive nature, George Bush was proposed for Noble peace prize. I had written in one of my articles that if this prize is given to a person like George Bush it would be an insult to the Noble peace prize. In my opinion, America has suffered a great loss and borne a great insult under the rule of George Bush 2nd. Many a time there has been a demand to declare President Bush as war culprit. Even today, if President Bush goes on world tour even in western countries, many humanitarian organizations show their strong protest. Everywhere he is shown black flags or his effigies are burnt. Undoubtedly, this aggressive, violent and culprit nature of George Bush has established America most powerful country of the world that is known as a giant and not as a father, brother or a patron. It should be hoped that after the departure of President Bush, the new American president will end this image of America.