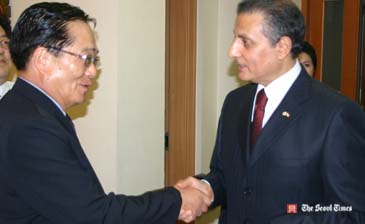 Egyptian Ambassador to Seoul Reda El-Taify (right) receives Chairman Yun Ik-Han of The Seoul Times during its reception held on July 23, 2008 at the Egyptian Embassy in Seoul on the occasion of its 56th Revolution Day.
Egyptian Ambassador to Seoul Reda El-Taify observed its national day by hosting a reception at the Egyptian Embassy in Seoul on July 23, 2008. The reception drew local politicians, government officials, scores of foreign ambassadors, and other cultural and academic figures.Among about 200 guests were Minister Kim Ha-Joong of South Korea's Unification Ministry; Kim Hak-Joon, chairman of the DongA Ilbo; Lee Sang-Seol, chairman&CEO of SaGhang International Cooperation Center.In a speech Amb. El-Taify thanked a multitude of guests and pledged that he would make further endeavor for the continued development of the bilateral ties between Egypt and South Korea.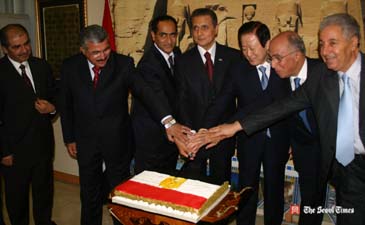 Amb. Reda El-Taify (center) is about to cut the cake with other foreign envoys during its 56th Revolution Day reception.
The Egyptian envoy also said that Tutankhamun treasures will come to Seoul for an exhibition at the National Museum of Korea. The Egyptian treasures are now on show in the United States.The Egyptian National Day is to commemorate "Aid El Sawra" or Revolution Day. On July 23, 1952, a group of young army officers in the "Free Officers Movement" led by Muhammad Naguib, Gamal Abdel Nasser, Abdel Hakim Amer and Anwar Al Sadat forced Farouk I, the last ruling King of Egypt, to abdicate in a military coup d'état. Subsequently, Naguib, Nasser and Sadat became the first three Presidents of Egypt.It was a unique revolution which peacefully changed the way of life in Egypt, removed occupation forces away from most of the Arab world, hoisted the banners of freedom and independence over the territories of the so called by that time "the third world" and made the interests of the overwhelming majority of our people the basis for the legitimacy and responsibility of the government.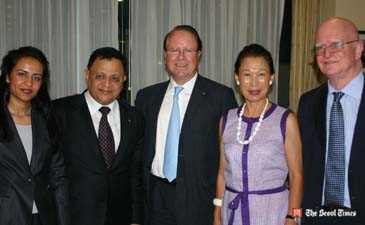 Minister Ihab Tahoon of the Egyptian Embassy in Seoul poses for camera with his wife (left), Mr. Alan Timblick (center), head of Seoul Global Center, Mr.s Timblick, and EU Amb. Brian McDonald.

The following is the full text of the ambassador's speech on the occasion of its national day.H.E. Mr. KIM, Ha Joong
Minister of Unification of the Republic of Korea
Excellencies Ambassadors,
Distinguished Guests,
Ladies and Gentlemen It gives me great pleasure and honor to address to welcome you here, in the house of Egypt, on the occasion of the national day of Egypt. This year, we celebrate the 56th anniversary of the 23rd of July, 1952 Revolution.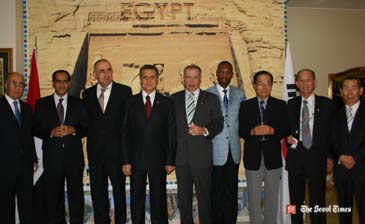 Amb. Reda El-Taify (4th from left) poses for camera with other VIP guests at Egyption Embassy in Seoul during its 56th Revolution Day reception.
First of All, I would like to seize this opportunity to express my sincere gratitude for the Korean Government and people for their warmth, kindness and hospitality that I personally felt during my three years stay here. For the last few years, the pace of reform in Egypt has been accelerated to keep up with the global changes that the world is witnessing. This acceleration has been translated into a comprehensive program that covered the political, social and economic aspects in an integrated fashion to provide a better life and a brighter future for Egyptians. As for the Egyptian/ Korean relations, the excellent political relations and the political will of both leaderships to further enhance our bilateral relations paved the way for major developments, particularly in the economic and cultural fields.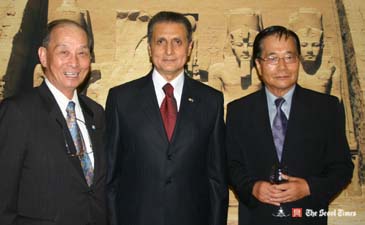 Amb. Reda El-Taify (center) poses for camera with Chairman Lee Sang-Seol (left) of SaGhang International Cooperation Center. At right is Chairman Yun Ik-Han of The Seoul Times.
During the past few months, Seoul has received 2 ministerial visits from Egypt (Minister of Telecommunications and Information Technology and Minister of State for Administrative Development), with more such high level visits expected during 2008.Trade volume between Egypt and South Korea reached almost 1.4 billion US$ during the period of January / May 2008, compared to only 855 million US$ during the same period in 2007. Indications points out that bilateral trade will most probably exceed an unprecedented 3 billion US$ by the end of 2008.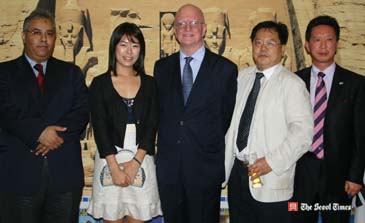 EU Amb. Brian McDonald (center) poses with 1st Sec. Nabil Mekky (left) of Egyptian Embassy in Seoul.
On the other hand, there is great potential to increase these investments particularly in fields such as petrochemical industries, IT, tourism and textiles. Korean companies are invited to take advantage of the next generation of industrial parks in Egypt. I also seize this opportunity to invite Korean companies to establish a Korean industrial park in Egypt; taking into consideration the comparative advantages Egypt offers to foreign investors and following the example of several other countries.The Field of Cultural Cooperation is one of the most important and dynamic dimensions of our bilateral relations as both countries attach great importance to interactions and exchanges between their peoples as this helps introducing each country's culture and civilization to the other.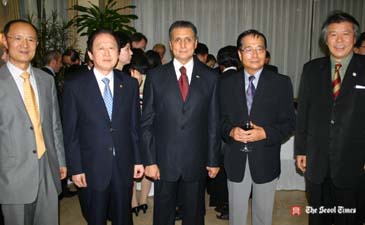 Amb. Reda El-Taify (center) poses for camera with South Korea Unification Minister Kim Ha-Joong during the 56th Revolution Day reception held in Seoul on July 23, 2008.
In this occasion, I would like to inform you that during his visit to Seoul this month, the world-famous Egyptian Archeologist and the Secretary General of the Supreme Council of Antiquities of Egypt Dr. Zahi Hawas declared that the exposition of King Tutankhamen will be coming to Korea.To conclude, I would like to express my deepest appreciation to all of you for being here and sharing with us our celebrations, and to express my sincere hope that the Relations between the Arab Republic of Egypt and the Republic of Korea will witness more development and improvement.Thank you very much.
For details or inquiries contact the Egyptian Embassy in Seoul at 749-0787/9.