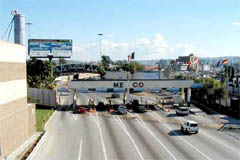 Gate to US-Maxican border city Tijuana
Elidia is 19 years old and three months pregnant. Her husband Lucas was arrested by US Border Patrol agents a few blocks from their Ontario apartment and deported to Mexico. Elidia has no family to support her. She is scared and hopes her husband comes back.It's quite likely her husband will come back through the same route he had used to make into the US or possibly another, a more dangerous one.Of course, the agents who arrested Lucas were doing their jobs, although their methods raise serious concerns for all of us.Lucas was one of 150 people arrested in the sweep, which was carried out in Ontario and Corona, California, about 100 miles from the border. Most of those arrested are Mexicans although some are from other parts of Latin America.Some Latino activists have complained of discrimination. Abel Medina, director of Hermandad Mexicana Nacional in Ontario, accused agents of using racial profiling because only people with "brown skin" were stopped.
US Border Patrol
According to Tomas Jimenez, senior patrol agent in San Diego, CA, racial profiling was not used. Federal agents relied on intelligence for their arrests. Their "intelligence" came from phone calls by local residents, telling them that undocumented workers were living in certain areas. However, agents stopped people as they were getting off buses and walked along the streets.The stops and arrests were not based on race but on a number of factors including "accent and dress," according to Richard Kite, another official with the San Diego Border Patrol.Angel Santa Ana, spokesperson for the San Diego sector of the Border Patrol, explained that arrests came about because of "consensual conversations" between undocumented workers and agents. These begin with an innocent chit-chat and if the agent suspects something, papers may be requested. Santa Ana said officers are entitled to strike conversations with anyone in the US.That is, of course, true. Yet, agents did not go up and talk to just about anyone in Bel Air, Westwood, Little Saigon, Chinatown, or Little Italy. They went to a Latino neighborhood and picked out people because of what they looked like and began a conversation which turned into a "trap."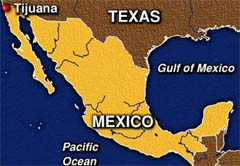 Carrie Washington, an attorney in Ontario who has represented hundreds of illegal immigrants, disagrees these conversations are "consensual." He said people are threatened, asked where they are from, and to show their documents.The rough treatment Washington talks about was confirmed by eyewitnesses. In one case, a man told a reporter of La Opinion, a Los Angeles Spanish language daily, that while he was merely watching border patrol agents putting people in a van, one of the officers grabbed him and asked for papers. He was let go only when he showed his ID card.Local Ontario police stated that they did not participate in the sweeps. They are interested in maintaining good relations with local residents, whether they are in the country legally or not. Their primary concern is to ensure that all residents feel comfortable in reporting crimes and cooperating with authorities.In spite of that, fear has become widespread in many Latino communities. The message from the Border Patrol is that they can come in anywhere and arrest people they suspect of being in the country illegally.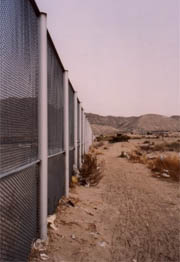 US Mexican border
Of course, they will not go to major farms during harvests and ask people for their papers. That happened once in Georgia during a harvest of sweet Vidalia onions in 1995. The screams heard because of the arrests were not those of the workers but those of growers who complained to Georgia's Congressional delegation and their Senators. The raids stopped. Business is business and the law can't interfere with that.The news about the arrests in Ontario and Corona reached the Latino community and inevitably frightened many people. Some are afraid of going out of their homes, even to take their kids to the doctor.Unable to stop illegal immigrants from entering the country by other means, the US Border Patrol is trying a technique used by terrorists — fear.Undocumented workers aren't the only ones who should be afraid. When a government agency can go up to people and ask for their papers because of "their accent and dress" you have to wonder what excuse will be used next to target another group. Your group, maybe?