DIGGING into a generous wedge of raspberry cream pie at the Blue Gate Restaurant in Shipshewana, Ind., was something of a revelation. So was the rhubarb-strawberry pie at the Bread Box Bake Shop on Morton Street. The custard pie and peach pie at Das Dutchman Essenhaus in Middlebury. The apple pie at the Market Street Family Restaurant in Nappanee. This is the heart of Amish country and Amish cooking, where family-run restaurants and bakeries serve up to 25 kinds of pie on a single day. It is also home to one of the Midwest's largest outdoor flea markets, two weekly antiques auctions that attract dealers from across the country and livestock and horse sales that draw international bidders. Northern Indiana is farming country, dotted by small towns with still-bustling main streets and crisscrossed by miles of two-lane roads running past tidy white farmhouses, ample red barns and seemingly endless cornfields.My friend Karen and I wandered these back roads for three days last August, sharing the blacktop with horse-drawn carriages and bicycles, the Amish modes of transportation; stopping at shade-tree stands to admire homemade rag rugs, baskets and the renowned Amish quilts. The horse-and-buggy pace was about right for our end-of-summer pie-eating binge and antique-sleuthing holiday.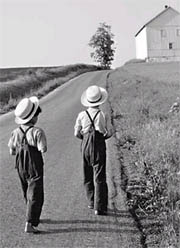 Amish country
Elkhart and Lagrange Counties are home to about 20,000 Old Order Amish. The area, which contains more than half a dozen small towns, all within a 20-minute drive of each other, is one of the three largest Amish settlements in America, along with Holmes County, Ohio, and Lancaster County, Pa. A large tourist trade, attracting nearly a million visitors a year, has grown up around the Amish mystique of plain dress, spartan living and domestic artistry, including woodworking, quilting and cooking and especially pie-baking. We were drawn to the area by the Shipshewana Auction and Flea Market. To our great disappointment the flea market turned out to be 1,000 vendors selling mainly new items: baseball caps, sunglasses, dish towels, birdhouses, dried fruits, vitamin supplements and cleaning products. It took us two minutes to know we were in the wrong place, but the other 65,000 people who show up every week obviously disagree. The antiques auction, however, held every Wednesday for the past 81 years, was nirvana for us two veteran collectors. Up to 12 auctioneers start the bidding all at once when an old dinner bell rings at 8 a.m. sharp in the auction shed. The result is like an explosion. The banter and bidding are deafening and the sales are swift. Little time is spent working the crowd for a higher bid. Many bidders pay cash on the spot, passing a wad of bills to the bid taker after each sale. Others register, get a number and pay at the end of the day.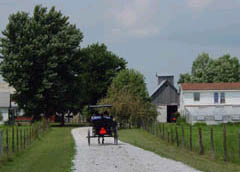 Buggy ride in Shipshewana
Wooden grain buckets and Roseville glass vases are held high and going, going, gone. "Merry Christmas, you stole that one," cried the auctioneer when I snagged a stained white-on-white quilt for $20.Old tin toys and farm tools are staked out by knowledgeable collectors who hover near the desired goods like faithful watchdogs, barking out bids before the uninitiated can figure out what is going on. Hoosier cabinets, enamel-top tables, humpback trunks, hay rakes and handmade beds are scooped up by the truckload as antiques dealers from near and far increase their inventories. "I've tried to come at least once a month for the past three years," said a dealer from Paris, Tex., who fills a 32-foot trailer each trip. "I buy mainly furniture. The prices are good." Someone buys a pig trough; someone else an album of old photographs; no one buys the box of dresser scarves until a jar of buttons and a fistful of costume jewelry is thrown in and the whole works sells for $5. The items we saw auctioned were not fine English or French antiques. There was a lot of Americana and attic finds, things you would encounter at a good country auction or in grandpa's barn. Wooden tools with a warm patina of use, old signs, linens in bundles, an old icebox, a washing machine with a crank, handmade beds, tables and chairs.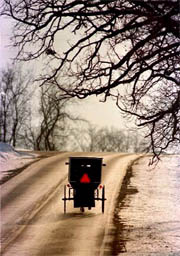 "Dealers come from all over the United States," said a woman who was posting sales in the office. "We have about 200 regulars. Furniture is always good, oak, cherry and walnut." My friend Karen, who has a booth at an antiques mall in Raleigh, gloated at her high bid of $7.50 on a red stool. In a store, she said, it would have cost her $20 to $50.A kilim rug with a slight wear around the edges came up, and the auctioneer tried for a $200 opening; $150 got no takers, and neither did $100. It was late in the sale. The rug finally sold for $50.Watching it all — the masterly auctioneers, the stoic Amish whose goods were being sold, the "English" (non-Amish) women running up the price of an iron garden gate to the point that the old men standing along the sidelines smiled in amusement — was so entertaining that we forgot to bid. We got a second chance. The frenzy of the auction contrasts sharply to the quiet countryside. It was here that we had our best Midwestern moments. Visitors can hire a guide and take a horse-and-buggy jaunt down country roads. Miller's Buggy Line Tours has three-hour and full-day itineraries, with the option of dinner in an Amish home, where guests eat not with the family but in a separate room. Sixteen miles away in Nappanee, tourists can wander around Amish Acres, a recreated 80-acre Amish homestead, complete with barn tour and wagon ride. We chose to go it alone, driving our pickup truck along the back roads and side routes, following hand-lettered signs that pointed the way to various home enterprises and offerings: chemical-free vegetables, gazebos and lawn furniture, brown eggs, comb honey, goat cheese, beeswax candles, quilt frames, grain-fed beef, rabbits, harness repair, rug weaving, fresh baked goods. Some 400 home businesses operate in the area, according to the Elkhart visitors center. Most Amish advertise their wares only with roadside signs.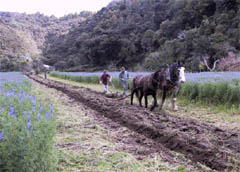 Amish homes do not have shutters, which are considered a frivolous adornment. They do not have electricity, plumbing or telephones. Windmills pump water. Cooking is done on kerosene or wood stoves. Corn cribs and silos add to the homestead charm. Well-tended gardens yield surplus summer vegetables that can be sold. The garden is the responsibility of Amish women, and they go about their business in long skirts, aprons, bonnets and bare feet, many with babies on hips. Riotous borders of flowers — dahlias, cosmos, cockscombs, gladioli, zinnias, sunflowers, black-eyed Susans — line the immaculate vegetable rows without fail almost as if a paint-by-number pattern had been followed. Purple martin birdhouses stand as silent sentinels. Monday must still be washday, as laundry hung drying on lines at nearly every house, providing a good indication of the number and ages of family members. Families with 10 children are not unusual among the Amish. Cut alfalfa lay in the fields drying. Dairy cattle and goats filled livestock pens. Belgian draft horses used to pull heavy farm machinery looked out of barn stalls. The absence of power lines, or signs saying "No Sunday Sales," signaled that a neighborhood was Amish. Young women rode bicycles up and down the roads, most likely on their way to jobs as store clerks, waitresses or chambermaids. Most men hold down full-time jobs in addition to their farm chores.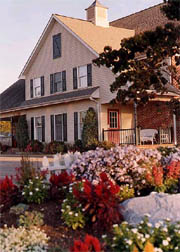 The Amish population is growing, and family farms no longer can support all the members, according to a staff member at the Menno-Hof visitors center. Men often work in recreational-vehicle factories (there are 25 such plants in northern Indiana), woodworking shops or in construction, she added. Amish schooling usually stops at the eighth grade. A sign proclaiming "Watch Noodles Being Made" made us hit the brakes at Fern's Country Foods in Topeka, five miles south of Shipshewana. Noodles are a staple of the German-Swiss Amish and Mennonite diet. Restaurants tout them. Country stores and gift shops sell them bagged under a variety of local labels. The dining room at Fern's is lined with shelves full of noodles, salad dressing, chicken stock and other foods, all made in the restaurant or locally. In the noodle kitchen, 500 pounds a day are made for wholesale trade. We ordered a cup from the menu and consumed the whole order without ever sitting down. They were that good, flavored with chicken stock, thick and salty. "All my friends rave about my noodle dishes," said one customer, who was buying 10 bags to take home to Arizona. "They think I make them from scratch," she added sheepishly. In the town of Middlebury, population 3,000 and less than five miles from Shipshewana, we stopped at Gohn Brothers, a store on South Main Street that has been selling Amish and other clothing, primarily for men, for a century. Upstairs is the sewing room where dark-colored pants, made with buttons rather than zippers, and shirts are sewn from durable denims and pure cotton. Downstairs are Amish hats and bonnets, suspenders and shoes, buggy umbrellas and union suits, sewing and quilting supplies.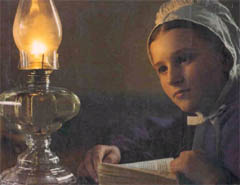 Displays are minimalist and rows of folded cotton undergarments and handkerchiefs are just as straight and neat as the Amish gardens. Some items left us guessing — beeswax holder and bonnet wire. Some surprised us — a $90 black Stetson hat. In Nappanee, a community of 6,500, we went from antiques mall to antiques mall along the town's two main streets. There are half a dozen malls, which house about 600 individual vendors, according to the Chamber of Commerce. Across from our inn were railroad tracks that carry about 60 freight trains a day on the CSX system, while Amtrak makes two stops. We fell asleep to the mournful whistles, and woke up to them as well. Here, too, we discovered the second weekly auction, which is held every Tuesday. Smaller than Shipshewana's, with only five auctioneers, it was a good warm-up for the main event. At the Market Street Family Restaurant, we got a look at the seven-foot pie pan that is used to bake the 500-pound pie for the town's annual apple festival in September. That's 800 to 1,000 slices of pie, the waitress said.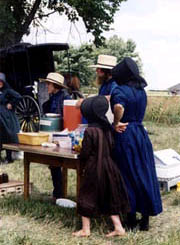 An Amish family
In Shipshewana, a town of less than 600 residents and more than 90 specialty shops, we went looking for quilts, and that led us to Lolly's Fabrics. The store provides work for more than 300 Amish women who piece and stitch quilts in their homes, completing about 450 a year, according to the owner. A full-size spread costs about $900; baby quilts are $150 to $500. In 1989, Lolly's made a commemorative quilt for the Mennonite Relief Sale held in nearby Goshen every fall; it sold for a record-breaking $11,500. More than 150 quilts were on display when we visited, but a fire earlier this year destroyed the store. Lolly's has reopened up the street, now calling itself A Little Bit of Lolly's, and finished quilts are arriving weekly at the store. The Menno-Hof visitors center in Shipshewana is a structure made of rough-sawn beams held together by wooden pegs and knee braces in the style of Amish barns. In a multi-image video presentation, the journey of the Amish and Mennonites is traced from 16th-century Europe to the farms of northern Indiana. A thought-provoking presentation, it explains the reasons for many customs and practices of the Amish, their allegiance to family and their struggle to maintain their simple way of life. We also witnessed a level of trust that seemed to come from another age. At the stand that sold "chemical free" produce, there was a cash box and a basket of organic onions, each with a price written in black marker. The breads, cakes and cookies at a spot marked "Fresh Baked Goods" were self-service.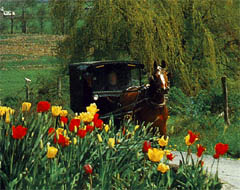 When I debated over two rugs at a farm weaving shop, saying I might be back tomorrow, the farmer said. "We have a funeral. The door will be open. Leave your money in the cash box and write your own receipt."
Visitor InformationGetting There
The nearest airports to Shipshewana, Ind., are in South Bend, about an hour west, and Fort Wayne, about an hour south. Renting a car is advisable since there is no local public transportation. Amtrak trains stop in Nappanee and Elkhart.
DiningBlue Gate Restaurant and Bakery,
105 East Middlebury Street, Shipshewana, (888) 447-4725. Serves an all-you-can-eat dinner with one meat, noodles, potatoes and dessert, $12.99 Twenty-five varieties of pie, at around $2.50 a slice. Open 6:30 a.m. to 8:30 p.m. daily, closed Sunday.
Das Dutchman Essenhaus,
240 U.S. Route 20, Middlebury, (800) 455-9471. A half broasted chicken dinner is $9.20 and there are two dozen kinds of pie. Open 6 a.m. to 9 p.m. Monday to Saturday, closed Sunday.
Fern's Country Foods,
7970 West 400S, Topeka, (888) 838-2837, offers a cup of chicken or beef noodles, $1.95, seven varieties of bagged noodles, about $3 a bag. Open 9 a.m. to 4 p.m. daily, closed Sunday.
Lodging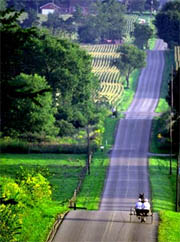 Nappanee Inn,
2004 West Market Street, Nappanee, (574) 773-5999, has 66 rooms for $84 double occupancy, including Continental breakfast.
Essenhaus Inn,
modern buildings in farmhouse style, 240 U.S. Route 20, Middlebury, has 94 rooms for $99 double occupancy, including Continental breakfast, cookies and coffee all day, (800) 455-9471; on the Web at
www.essenhaus.com
.
ShoppingShipshewana Flea Market and Auction,
8 a.m. on Wednesday, usually finishes by 2 p.m. 345 South Van Buren Street, Shipshewana, (260) 768-4129, on the Web at
www.tradingplaceamerica.com
.
A Little Bit of Lolly's,
135 East Main Street, Shipshewana, (800) 773-2119,
www.lollys.com
, sells quilts, fabric and quilting supplies. Open 9 a.m. to 5 p.m. daily, closed Sundays.
Susan Harb is a freelance writer who lives in Virginia.The above article is from The New York Times.