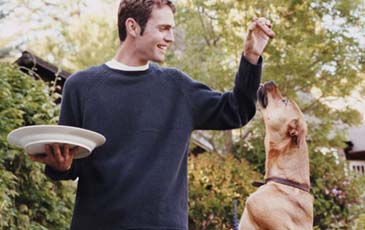 Dogs may tell much about a man.
Courtesy of Brooke Slezak via Getty Images
If a man owns a mutt, he is typically happy-go-lucky and will make a good mate, says Wendy Diamond, author of "How To Understand Men Through Their Dogs.""They are not concerned about pedigree," she said. "They are very secure with (themselves) and love children."In her book, "What A Lucky Dog," Diamond provides personality characteristics about men who have various types of dogs. She also gives insight on not-so-good behavior — and a new trick a woman may want to teach the owner. If you are looking for marriage material, consider the Doberman pinscher, collie, Chinese crested, beagle or rottweiler man, she says.Aside from dog owners that would make a potential long-term mate, Diamond gives snippets of useful information, such as noting that a guy with a bichon frise is "great with children" and is the type of man who will dress up as a clown on birthdays or as Santa at Christmas.Intrigue and mystery will get the attention of a man with a German shepherd, she says.The book also says the Akita man is known for being "overprotective of those he loves" and is perfect for the woman who would enjoy being a geisha girl.While each breed has distinguishing characteristics related to marriage, family and personality quirks, women looking to get married may want to steer clear of the poodle man, who is cultured and gets married later in life, Diamond said.A woman seeking an immensely affectionate man may also want to stay away from the Pomeranian man.
Breeds Can Mislead
Sheryl Matthys, founder of Leashes and Lovers, said it is possible to determine some personality traits from the type of dog a man owns.Masculine men may have large dogs, for instance. But she cautions not to read too much into the type of breed a person owns.Matthys, is a certified dog trainer, animal behaviorist and expert on dog-human relationships, also has a psychology degree."Maybe you're a gruff-looking guy but a softy on the inside, as evidenced by your fluffy poodle or pampered Yorkshire, and you're perfectly comfortable with your dog's demeanor and secure about your preference."Perhaps your refined elegance and business pedigree doesn't quite match up with your scruffy-looking terrier or rowdy Jack Russell. So, you can't always judge a book by its cover, but the type of dog certainly may reveal who the person is within, or what they aspire to be."
Works Both Ways
Drawing conclusions based on dogs does not work only one way.Matthys points out that a man may discern something about a woman because she dresses her pooch."While many women will contend that they simply enjoy putting a cute coat on their dog, many men will view that woman as high maintenance," she said. "Now, not every man will be scared off by that. But, to many men, that screams that the woman will spend, spend, spend their money and that they prefer designer brands over generic."Matthys said it could also mean that the woman wants a baby.She added that while the dog may say something about the owner, a dog can also be the "best source of judgment" when dating.
Let Dog Sniff Out Dates
She said if you are looking for love, a dog may be able to sniff out a good date."Even though dogs have 220 million smell receptors to our 5 million, I'm not talking literally sniff(ing) you a good date, but trust your dog's instincts," she said. "Look for the receptiveness of your dog being comfortable around your potential date."Matthys added that the presence of a dog can make an environment more fun for dog lovers."So take your dog with you everywhere you can in order to meet people and pause when in view of a potential date to make yourself available for small talk," she said.She added that if a dog owner berates or speaks down to a dog, this provides insight on how he may speak to humans as well.
The above article is from 4029tv.com.