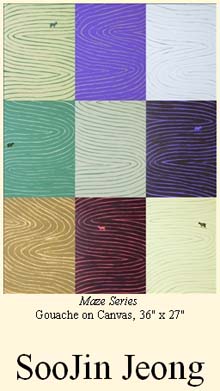 Korean Artist SooJin Jeong in New York Exhibition
NEW YORK, NY — The Agora Gallery (530 West 25th Street, Chelsea, New York, NY, 10001) is proud to present "SooJin Jeong in Strength in Color." Scheduled to run from Sept. 9 through Sept. 30, 2008, the collection will feature a captivating selection of SooJin Jeong's abstract arrangements.
Everybody is cordially invited to attend SooJin Jeong's opening reception in the gallery, Thursday night, September 11th, 2008 from 6-8 p.m.
SooJin Jeong's work may be seen on
http://www.agora-gallery.com/ArtistInvite/SooJin_Jeong.aspx
Exhibition Announcement
Agora Gallery is proud to present SooJin Jeong in Strength in Color.
Exhibition Dates: September 9, 2008 through September 30, 2008
Opening Reception: Thursday, September 11, 2008, 6-8 pm
Gallery Location: 530 West 25th Street, Chelsea, New York
Gallery Hours: Tues - Sat, 11am - 6pm
SooJin Jeong's work may be seen on
http://www.agora-gallery.com/ArtistInvite/SooJin_Jeong.aspx
About SooJin Jeong:
In her most recent works, SooJin Jeong rejects her previous figurative style in an attempt to explore her Buddhist faith. Based in Zen philosophy, Jeong's gouaches are careful abstract arrangements of lucid color and undulating shape, rejecting trivial things to reveal the truer reality in which beauty exists without ego, desire, or want. Her translucent colors possess a liquid quality, flowing over the paper and mimicking the transient nature of life. The artist's hand is almost completely erased in these organic works, giving the impression that they merely exist, rather than having been created.Having spent most of her life in Korea, Jeong's work is both deeply personal and reflective of her native cultural influences. She uses her work not only to explore her own complex biographical narrative, but to engage in a dialogue with the viewer and examining her work becomes a spiritual experience for each individual, an ever changing and impermanent journey. SooJin Jeong lives and works in New York.Inquiries:
Amanda Aaron
Public Relations Department
Agora Gallery
Amanda@Agora-Gallery.com