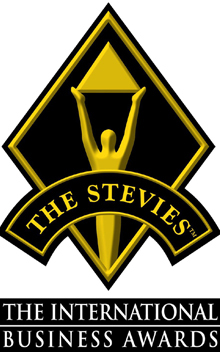 The Stevie Awards logo
Fairfax, VA — Companies and individuals from 26 countries, including first-time winners Bulgaria, Mexico, Panama, Romania and Sudan, have been announced as Stevie® Award winners in the fifth annual International Business Awards, the world's only international, all-encompassing business awards program.Nicknamed the Stevie from the Greek word "crowned," the awards will be presented at a gala banquet ceremony on Monday, September 8 at the Shelbourne Hotel in Dublin, Ireland. Tickets for the banquet are now on sale at www.stevieawards.com/iba. The big story of this year's results are the 39 International Stevie® Awards won by South Korean companies. While IBA entries increased 65% this year to a record 1,711, Korean entries were up more than threefold over 2007, when Korean entries took home 13 Stevies.This year's top South Korean winners are:— Best Advertising/Editorial/Design Agency AND Best Creative Executive, Sungwoo Adcom, Seoul, South Korea
Best Chairman, Daehong Communications, Seoul, South Korea
— Best Communications Campaign in Asia, Bridge Communications, Seoul, South Korea
— Best Communications Executive, Daemyung Leisure Industry, Seoul, South Korea
— Best Corporate Social Responsibility Program in Asia (China, Japan, and Korea), Nuskin Enterprises Korea, Seoul, South Korea
— Best Creative Department/Organization, Hanaro Adcom, Seoul, South Korea
— Best Customer Service Executive, SIDM Corporation, Seoul, South Korea
— Best Environmental Responsibility Program in Asia (China, Japan and Korea), SUDOKWON Landfill Site Management Corp., Incheon, South Korea
— Best Executive in Asia (China, Japan, and Korea), Republic of Korea Air Force, Gyeryong, South Korea
— Best Marketing Department/Organization, SK Networks Co., Seoul, South Korea
— Best Marketing or Sales Brochure or Kit, McDonald's Korea, Seoul, South Korea
— Best Marketing Team, HK Bank, Seoul, South Korea
Best MIS & IT Executive, Seoul Cyber University, Seoul, South Korea
— Best Turnaround Executive, Goyang City, South Korea
Most Innovative Company in Asia (China, Japan, and Korea), SK Telecom, Seoul, South KoreaThey will be presented with awards at a gala ceremony on September 8 in Dublin, Ireland.The United Kingdom boasts 13 International Stevie Award winners. Other multiple award winners include Canada (9), Germany (5), Australia (3), Ireland (3), Turkey (3) Bulgaria (2), China (2), India (2), Mexico (2), Romania (2), and Sweden (2). Recipients of International Stevie Award trophies were selected from entries received from companies and individuals in more than 30 countries. Other countries with at least one International Stevie winner include Brazil, Czech Republic, Denmark, France, Pakistan, Panama, Singapore, South Africa, Spain, Sudan, Thailand, Ukraine, and the U.S.A.Companies that won multiple Stevies are lead by Samsung Electronics of South Korea with four. Winners of three Stevies include SK Telecom (South Korea) and Turkcell Iletisim Hizmetleri A.S. (Turkey). Winners of two include Globoforce (Ireland and U.S.A.), the City of Goyang (South Korea), Hong Communications (South Korea), McCann PR (Romania), Metadesign AG (Germany), Sangmyung University (South Korea), SK Networks (South Korea), Sungwoo Adcom (South Korea), and TELUS Communications (Canada). A complete list of 2008 International Business Awards honorees is available at
www.stevieawards.com/iba. All organizations worldwide are eligible to compete in The International Business Awards, and can enter in any of more than 40 categories from Best Multinational Company and Best New Product to Best Corporate Social Responsibility Program and Best Executive. Members of the Stevie Awards' Board of Distinguished Judges & Advisors and their staffs selected the winners during final judging earlier this month, which was preceded by two months of preliminary judging by business professionals worldwide.
About The Stevie Awards
Stevie Awards are conferred in four programs: The American Business Awards, The International Business Awards, the Stevie Awards for Women in Business, and the Stevie Awards for Sales & Customer Service. Honoring companies of all types and sizes and the people behind them, the Stevies recognize outstanding performances in the workplace worldwide. Learn more about The Stevie Awards at www.stevieawards.com.Global Sponsor of The 2008 International Business Awards is Dow Jones. Premier sponsor of the September 8 awards gala is IDA Ireland. Supporting Sponsors include BT Conferencing and Weber Shandwick UK. National Sponsors include the Korean Business Communicators Association and the Public Relations Society of India. Media Sponsors include CorpComms magazine and Berlin's JazzRadio 101.9. Localization Partner for the 2008 IBAs is Lionbridge.