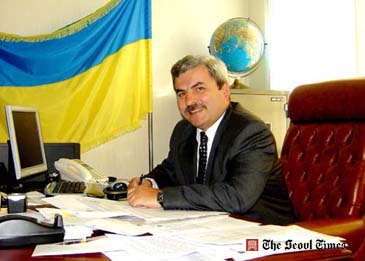 Ukranian Ambassador to Seoul Yurii Mushka
On August 24, 1991 the Ukrainian Parliament, Verkhovna Rada, declared Ukraine's independence. The decision of people's deputies was supported at the national referendum by more than 90% of country's citizens.Due to different reasons previous patriotic efforts aimed at establishing independent Ukrainian state in the XX century were straitened for time. Therefore, the significance of this date for every Ukrainian citizen is connected first of all with realization and proof of the Ukrainian state's viability. Maybe, because of the difficult history of state establishment, Ukraine could not avoid the thorny process of strengthening of its independence on the way to its statehood. At the same time, during the years of independence new generations of Ukrainians grew up. For them the notion "independent Ukraine" is closely associated with such notions as "human rights," "freedom of speech," "freedom of religion," "national interests."Every year the Independence Day marks a new reference point, a measurement of achievements and challenges for Ukraine as well as for Ukrainians inside the country and abroad. In this sense the year of 2008 is not an exception.Ukraine celebrates 17th anniversary of its independence with new achievements in domestic and foreign policy.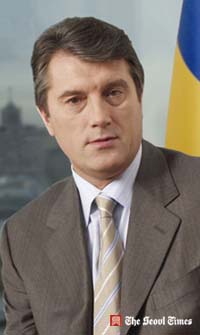 Ukrainian President Victor Yushchenko
Domestic policy. The stable democratic system of power, based on European values and traditions of democracy, market economy, respect for human rights and freedoms, including freedom of mass media, has been built in Ukraine. Last elections of 2006 and 2007 were recognized by international community as free and fair. After them the democratic transition of power to new coalitions took place. It proves efficiency and stability of the Ukrainian political system.As in other democratic states highly competitive political environment is developing in Ukraine. Sometimes it leads to hot political debates regarding important issues of state policy in the parliament, mass media and society. But the main thing is that these processes do not violate the framework of the Constitution, whereas crucial decisions are made on basis of political consent. This is the indisputable proof of the European nature of Ukrainian democracy.Nowadays the process of improvement of balance between the branches of power – the President, the Parliament and the Cabinet of Ministers – is still going on in Ukraine. During the first half-year the constitutional reform has been widely discussed. The President established the National Constitutional Council. The discussion on creation of Special parliamentary commission for improvement of the Constitution of Ukraine was initiated in Verkhovna Rada. Its Working group drafted the Conception of systematic renewal of social relations' constitutional regulation. The draft should be considered in the nearest future.Despite difficulties in domestic policy as well as complicated global economic processes (global surge in energy resources and food prices etc.), in the first half of 2008 key indicators of Ukraine's economy showed stable positive dynamics: GDP growth reached 6,3%, industrial output – 7,5%. In first quarter of 2008 volume of foreign direct investment has grown for 46,6%. Inflation rate decreased from 1,3% in May to 0,8% in June. Foreign policy. Ukraine has strengthened its positions as an active player in global and regional international relations. Due to balanced, prudent and constructive policy Ukraine enjoys respect in the world, builds up mutually beneficial and good-neighbour relations with its international partners.European and Euro-Atlantic integration, oriented towards the accession to European Union and NATO, are the key priorities of Ukraine's foreign policy. Ukrainians believe that successful European integration is the best basis for national security of our country, its stable democratic development. These priorities are inseparable from the development of friendly, constructive and equal relations with our strategic partners and other countries of the world. We are confident that dialogue based on the principle of equality and respect for the partner's position, regardless of its influence on global or regional levels, is a basis of international security and stability, peace and prosperity. This principle has always been and will be inviolable for our state. On the eve of 24th of August – the Independence Day of Ukraine – every Ukrainian looks into the future with hope. Celebrating this remarkable date we are sure that another period of Ukrainian state's movement towards independence will be marked with further intensification of democratic reforms in our country and favourable for foreign investment economic development, by conclusion of new agreement between Ukraine and the EU and joining the NATO Membership Action Plan as well as mutually beneficial relations between our state and its international partners in all spheres.Marking 17th anniversary of the state's independence, we also believe that continual democratic development of our country and international community's goodwill towards Ukraine reaffirm that the future of our state is inseparably linked with European integration.