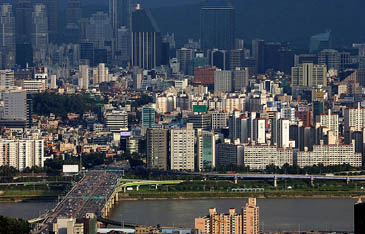 Near by Han river in Seoul area
To globally promote this city's diversity and beauty, the Seoul Metropolitan Government is currently hosting the 4th Online Image Contest which forms part of the annual Sightseeing Photo festival. Now in its 13th year the festival allows professional as well as amateur photographers to enter their original pictures (as well as video footage) of events and attractions taken in and around the city. The online contest is aimed at foreigners touring or living in Korea with various other categories intended for Korean natives or anyone else interested in Seoul.The theme for this years contest is "A trip to Seoul" with a range of sub categories zoomed on: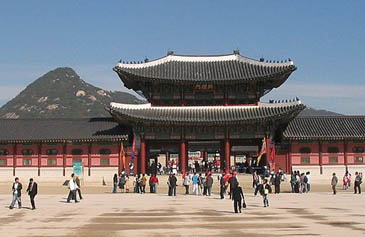 Seoul's Gyeong-bok palace
(1) Daily Life: Photos of Seoul as a city, its people, traditional values, unique individuals, daily routine and current situations.
(2) Cultural Events in Seoul: Photos of festivals, performances, special events, educational outings, religious meetings, sports, etc. (3) Touring Seoul: Photos of tourist attractions, social hot spots, guided tours and adventures. (4) A Design City: Photos of Seoul's traditional beauty as well as sophisticated and modern designs, works of art, businesses, historic temples, structures and more.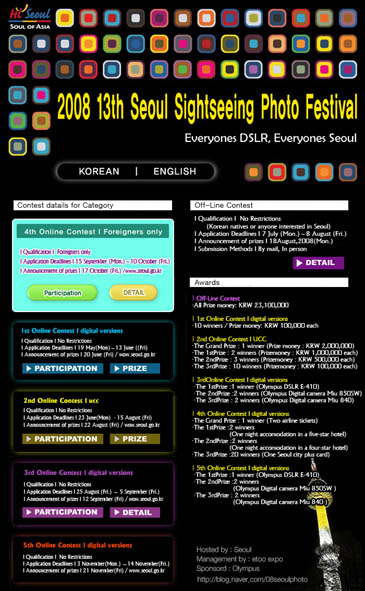 2008, 13th Seoul Sightseeing Photo Festival
This opens up space for a variety of pictures and well as video clips of unique moments and special memories occurring everyday in the world's second biggest metropolis city. In exchange for your quality photos the organizers are offering some decent prizes which include 5star accommodation as well as a round trip airplane ticket to Seoul or anywhere else in the world - which will be awarded to the winner. A maximum of three digital photo's are allowed per entrant and for video footage a time limit of 5minutes or 50mega bytes is set. The competition started on the 15th of September and will continue up until the 10th of October this year.
For more information visit the contest website at http://wow.seoul.go.kr/wow/wow_notice.jsp or e-mail the organisers at soul@etooexpo.co.kr