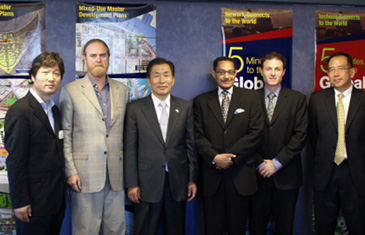 From Left to Right: Joo Sanbae, Christopher Kirwan, Mayor Ahn, Dean Shariff, Michael Saltzman, SooYoung Lee
Mayor Ahn Sang-Soo and a delegation from Incheon visited Newwork's offices in Newark to discuss development opportunities in Incheon and the similarities between the two port cities. Newwork LLC, a Real Estate Development and Consulting company successfully introduced Mayor Ahn to the City of Newark as an international business hub and presented its case for a development concept in Incheon. Representing the City of Newark, Dean Sharif spoke of the importance of building and maintaining trade relationships between port cities and about the benefits of information sharing.Led by Michael Saltzman and Christopher Kirwan, partners of Newwork LLC, the presentation also detailed a mixed-use oriented, Life Sciences Village as a key development opportunity in Incheon which received praise from Mayor Ahn. SooYoung S. Lee, Ph.D. was instrumental in facilitating the Mayor's visit. Dr. Lee, principal of CMK Biologics, LLC, has over twenty years of biotech industrial experience in directing technical operation, developing strategic plans and establishing biotech facilities and enterprises.He has been helping Incheon Free Economy Zone (IFEZ), Korea as a special advisor to the Mayor of Incheon for Biotech Development to establish a Biotech Industrial Park and to attract global biotech R & D labs and start ups to IFEZ. Newwork plans to send a delegation to South Korea in the coming months to further solidify the details of this monumental development opportunity. To learn more about Newwork's real estate developments or it's service platform, visit www.newworking.com or contact Janelle Noble, Marketing Manager at jnoble@newworking.com.
About Newwork LLC
Newwork is a real estate development company driving the development of cities, towns and neighborhoods in three divisions: Real Estate, Planning & Design and Marketing. As a team of highly-trained, multicultural professionals including real estate analysts, project managers, planners, architects, graphic designers and GIS specialists – we are uniquely positioned to respond to a diverse range of client & partner demands. In addition to taking on select Real Estate Development projects as a principal developer Newwork services independent clients. Our two-fold value is we understand real estate from an owner's perspective and our service platform exposes us to a wide range of projects and locations, keeping us up-to-date on industry trends and opportunities all over the world. We are currently working on a range of projects in Northern New Jersey, with a concentration on the City of Newark, as well internationally throughout the Middle East.