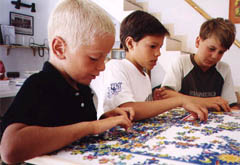 Swiss kids in classroom
Switzerland has four national languages, but immigration has added another 36, spoken in some cases by small groups of new arrivals. Too many languages? Yes, but the problems seem to emerge not by the number of languages but rather the increasing importance of English as a world language which is beginning to threaten the four national languages of Switzerland.To remain competitive in the global economy, the Swiss federal government recently passed a new law which would require children to study two foreign languages in elementary school. One of the two foreign languages would be English and the other one to be chosen from French, German, Italian, or Romansh. When you add the "home" language, i.e. the first language, to the two foreign languages, you end up with a total of three languages.Although the new law would not take effect until 2012, many cantonal heads of education have shown serious concerns. Some local cantonal educators believe that two languages in elementary school would be too much and too stressful for kids.
The situation is particularly troublesome in German-speaking cantons where kids already struggle with Swiss German, their home language, and High German, the international variety useful in international communication.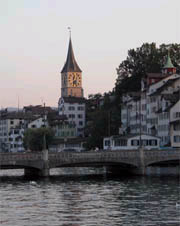 Zurich
Swiss German is different from "High German" and therefore kids have to overcome the "home'" language to become competitive in the German-speaking European market. Thus, English is in some ways not their first foreign language, but in practical purposes their second. Having to learn a "third" and a "fourth" causes concern to Swiss educators who see it as overwhelming for their students.
An additional concern centers around the effect the new law would have on the other national languages of Switzerland, particularly Italian and Romansh. These two languages are losing out as local cantons are beginning to favor English over these two national languages.Even French, spoken by 20 percent of the Swiss population, is feeling threatened. In German-speaking cantons, English is given priority over French in schools. This is what's happening in Zurich, the nation's financial center. English will in all likelihood be introduced in third grade and French shifted to 5th grade.In spite of the growing importance of English, one of the articles of the Swiss Confederation mandates the use of the four national languages.The support for the four languages has a fair amount of pragmatism. By learning each other's languages and cultures, the Swiss have managed to develop a respect for their diversity and avoid the ethnic strife and separatism which has occurred in many other parts of the world.Supporting the four national languages has also to do with tradition and the concern that if English is not controlled, it will pretty much take over and supplant the national languages as some people feel has already happened in the Netherlands.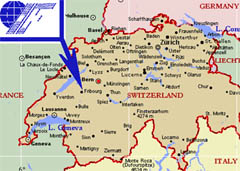 The dominance of English as a world language inevitably puts pressure on languages spoken by small groups of people. These languages, though important for their speakers, have little "market" value. Thus, the opportunities for those who only know Romansh, spoken by 0.5 percent of the Swiss population, will be severely limited. If these people also know French and Italian, two of Switzerland's national languages, the opportunities increase. However, the opportunities increase significantly if English is added into the mix. What will the cantons do with the new law? Some people are already collecting signatures to try to overturn it. Even if they don't succeed, local school officials have a great deal of latitude in school matters since education in Switzerland is the primary responsibility of the cantons.In all likelihood, most German-speaking cantons will start English by third grade and introduce French two years later. Some will start French and later English. Italian-speaking cantons will start with two national languages and add English in seventh grade.The challenge for the Swiss is to continue to maintain their multilingualism which has served them so well and not fall behind in a world in which English has become the de facto lingua franca.In countries which have one dominant language, adding English as a second language in school is not a major problem since it has become a basic subject alongside of the national language and mathematics. That's what will happen in Italy, for example.Those countries which already have more than one national language will find it more of a challenge. The Swiss, however, are geographically and politically well-suited to show the way on how to integrate English into a multilingual world without losing national identities.