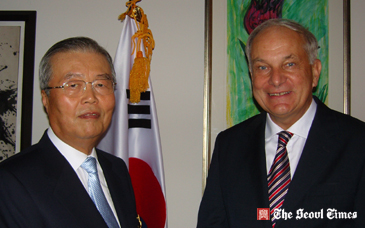 Dr. Kim Chong-In, a prominent economist, received the prestigious German award from the German government on Sept. 26, 2008.
On behalf of German President Horst Koehler
German Ambassador to Seoul Norbert Baas awarded the South Korean economist "Officer's Cross of the Order of Merit of the Federal Republic of Germany" in a ceremony held at German envoy's residence in Seoul's Seongbuk-dong
on the day.A spokesman of the German Embassy in Seoul said
that German President Horst Koehler decided to bestow the high decoration upon Dr. Kim for his contribution to enhancing German-Korean relations. Dr. Kim is a longstanding member and the chairman of the Korean-German Parliamentary Friendship Association. Dr. Kim contributed in a substantial way to promoting and fostering the bilateral relationship, particularly in the political and parliamentarian field, according to the spokesman. Dr. Kim received a PhD degree in economics at the renowned University of Muenster in Germany.The Bundesverdienstkreuz (Federal Cross of Merit, officially Verdienstorden der Bundesrepublik Deutschland, Order of Merit of the Federal Republic of Germany) is the only general state decoration of the Federal Republic of Germany. This Federal Order of Merit has existed since September 7, 1951. Between 3,000 and 5,200 awards are given every year in all classes.Most of the German federal states (Länder) have their own orders of merit, with up to three ranks (member, officer, commander). This excludes the Free and Hanseatic Cities of Bremen and Hamburg, which reject any orders; by old tradition its citizens will refuse any decoration in form of an order.