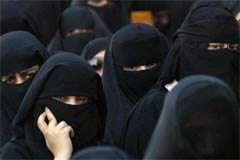 Arab culture is known in sociological terms as a "shame culture" in which great emphasis is placed on modesty and piety. Such attitudes are reinforced by Islam where the faithful are enjoined to adhere to these moral principles in both the private and public spheres.Sex is a taboo subject and sexual misconduct is harshly dealt with. Men and women must dress modestly and never expose what are considered to be the "private parts" of their bodies until after marriage.Men and women are told not to stare or gaze at each other but to lower their eyes in modesty and piety. One of the most important problems of the Moslem minorities in the west is that concerning the way they dress which seems to irritate not only ordinary western citizens but their government too.Islam also places great value on cleanliness of both body and mind. Cleanliness is regarded as part and parcel of faith. "Cleanliness is of faith" is a proverb repeatedly used in the Moslem world. A good Moslem must wash at least five times a day, before each of the prescribed prayers. The entire body of course is washed completely frequently during the week.
A soldier identified in press reports as Spc. Lynndie England, 21, points to a hooded and naked prisoner lined up with others at Abu Ghraib. England has not been charged in the abuse scandal, but she is being detained at Fort Bragg, N.C. Courtesy CBS
Abuses of Iraqi Prisoners of War Photo Gallery
Even young people are supposed to dress with modesty and decorum not only when they are on the street or attending school but also in their homes. Early in life a child is instructed to dress properly even in front of his parents. At that early age he is taught to take his or her bath in private. The child is also taught how to sit properly making sure that none of the private parts are exposed.That is why it is particularly very humiliating and shocking in the largely conservative Moslem society both in the religious and the social sense when an adult, not a child, is forced to strip naked in public, among strangers, male and female.Such torture is not just criminal but sadistic too. The fact that such humiliation was imposed on Iraqi prisoners in the notorious Abu Ghraib prison by Americans was the more shocking.The New York Times (May 4, 2004), reported a released Iraqi prisoner as saying, "This is not expected of the Americans. They are civilized people." "When the Americans came, I was so happy. After I was arrested, the picture is changed." The Arab, indeed the entire world and in particular the Moslem world was shocked and dismayed.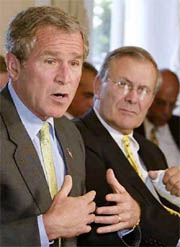 Bush (Left), Rumsfeld
After all, only animals display their private parts in public. Man was created differently and is ashamed. Regular beatings, black hoods over the head are bad enough, but the worst insult was to be stripped naked and then to be made to bend over a wall with the impression of possible rape was worse. This particular prisoner said that when they arrested him, one of the American soldiers urinated on him. Urine is considered to be unclean in religious terms in Islam and constitutes a particularly demeaning insult. American soldiers should have been thoroughly briefed on such matters before being sent to Iraq.President George Bush, Defense Secretary Donald Rumsfeld and other American officials made an apology and showed implicit acknowledgment of the shameful deed. It is also questionable if the apology would make up for everything. The authority should embark on extensive training campaign of education in this regard.